House passes $7.9bn Hurricane Harvey aid package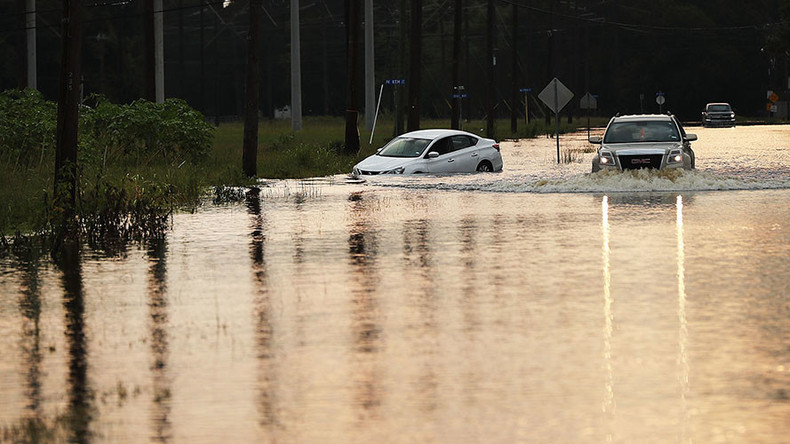 The US House of Representatives has approved a $7.9 billion package to aid the victims of Hurricane Harvey in Texas and Louisiana, as Hurricane Irma continued tracking towards Florida.
With 419 lawmakers in favor and only three opposed, the bill was sent to the Senate in hopes that President Donald Trump will be able to sign it before Federal Emergency Management Agency (FEMA) funds run out at the end of this week, AP reported.
FEMA's Disaster Relief Fund had just $541 million "immediately available" for Harvey response and recovery efforts, an agency spokeswoman told Bloomberg on Tuesday. The agency was spending $9.3 million every hour, or about $155,000 a minute.
Meanwhile, Hurricane Irma made its way towards Puerto Rico, devastating smaller Caribbean islands along its path. Most prediction models show the powerful category 5 storm turning north to impact Florida.
The Republican leadership hoped to tie the aid package to a long-term debt limit increase, but the opposition Democrats would only agree to a limited, three-month measure.
House Speaker Paul Ryan (R-Wisconsin) told reporters the idea proposed by House Democratic leader Nancy Pelosi (D-California) and Senate Democratic leader Chuck Schumer (D-New York) was "ridiculous" and that this was no time to play politics with the debt ceiling.
The US government debt reached its statutory limit in March, prompting the Treasury Department to suspend sales of certain securities. Congress will need to raise the debt ceiling by September 29 to avoid a default and fund the government by September 30, to avoid a shutdown of executive branch operations.
AP reports that President Donald Trump has agreed to the Democrats' proposal, however.
Harvey was a Category 4 storm when it made landfall on the southern coast of Texas on August 25. It proceeded to dump record quantities of rain along the coast and into Louisiana before dissipating on September 2.
It is already considered to be the costliest natural disaster in US history, with preliminary estimates putting the damage at $190 billion, or more than hurricanes Katrina (2005) and Sandy (2012) combined, according to AccuWeather. That amount of damage represents a 1 percent hit to the US gross domestic product (GDP).
Parts of Houston, the fourth-largest city in the US, will likely be uninhabitable for months due to the biggest flood in 1,000 years, according to meteorologists.