Casualties confirmed after blast at Bagram airbase in Afghanistan - US military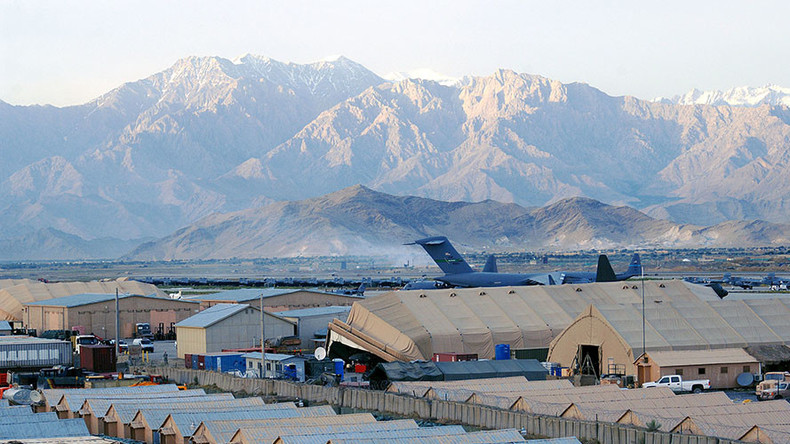 A suicide bomber has reportedly detonated explosives at Bagram airbase in Afghanistan, TOLO News reports. The US military has confirmed a "small number of casualties."
"An explosion occurred outside an entry control point at Bagram Airfield at 5:38 p.m. local time today," the military said in a statement.
"The explosion resulted in a small number of casualties," it continued, adding that the airfield is secure and the incident is being investigated.
Eyewitnesses cited by TOLO reported that multiple people had been wounded.
The detonation occurred at one of the entrances to the airbase, according to the news outlet.
READ MORE: 28 women & children killed in Afghanistan airstrikes this week – UN
The explosion was carried out by a suicide bomber riding a motorbike, TOLO cited Afghan Interior Ministry spokesman Najib Danish as saying. He said that three civilians were injured in the blast, two of whom are in critical condition.
Bagram's governor said that four people were wounded in the bombing, while the Georgian Defense Ministry said that three of its servicemen were injured, one of them critically. Over 800 Georgian troops are currently serving as NATO forces in Afghanistan.
It comes just hours after a senior US commander in Afghanistan apologized for a "highly offensive" leaflet which was distributed by US forces in the province of Parwan.
The leaflet depicted part of the Taliban flag, which includes a passage from the Koran, on a dog - an animal which is considered unclean in Islam.
The Taliban responded to the leaflet by saying it showed America's "hatred" for Islam, and that it proves the war in the country is a "war between Islam and unbelief," Reuters reported.
"Afghan people are very restrictive in religious issues, especially when there is news that insults their religious beliefs," political commentator Muslim Shirzad told RT.
"Foreign troops, especially US forces, apologize about such issues, but their cultural advisors must be very cautious and they should know that such incidents may provoke people on the local side, and also it may be utilized by terrorist groups like the Taliban and other countries which support them."
In the view of author and activist David Swanson, the US-led NATO forces in Afghanistan don't care much about the offense they cause or what local people think of them.
"I doubt very much that most members of the occupation from the United States and its allies really care [about Afghans]," Swanson told RT. "It's not what they've been trained to do, what they've been educated to do... They've been put in a situation where they see Afghan people as threatening their lives and they haven't been educated to think there's anything to learn from Afghan culture."
The bombing also comes after US President Donald Trump performed a U-turn on Afghanistan, abandoning his previous position of disengagement.
Trump has vowed to "expand authority for American armed forces to target the terrorist and criminal networks that sow violence and chaos throughout Afghanistan" in a new push against the Taliban.
Bagram was the scene of controversy in February 2012, when Korans were mistakenly burned at the base alongside damaged books and texts from the airfield's library. The incident prompted widespread protests and led to multiple deaths.