'Agreeing with Putin': Sen. Lindsey Graham opposes North Korea sanctions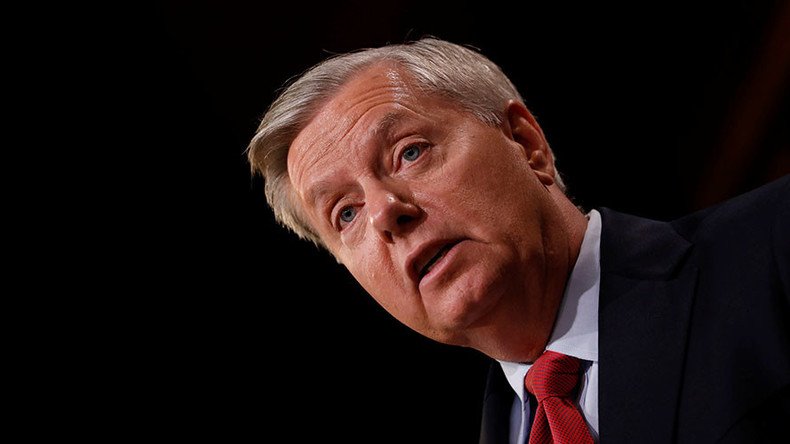 Senator Lindsey Graham has found himself agreeing with the Russian president that further sanctions against North Korea will most likely fail, following the Trump administration's call for new measures against the North.
Graham has urged a "forceful response" by the United States against "any future missile test" by North Korea, in a series of tweets Tuesday morning, adding that he couldn't believe he was in agreement with the Russian president that "further sanctions on North Korea [are] very unlikely to work."
An American military strike against North Korea was "inevitable" if something did not change, Graham told BBC this weekend.
The Republican Senator from South Carolina has blasted Vladimir Putin on many occasions, recently calling him a "bad guy."
Vladimir Putin earlier said that sanctions will not dissuade North Korea, however, contrary to Graham's position, the Russian president held that "ramping up military hysteria in such conditions is senseless; it's a dead end."
"It could lead to a global, planetary catastrophe and a huge loss of human life. There is no other way to solve the North Korean nuclear issue, except through peaceful dialogue," Putin said on Tuesday.
Following North Korea's test of what it claimed was hydrogen bomb on Sunday, the Trump administration called for the UN Security Council to impose "the strongest possible measures" on the country, and the US Defense Secretary James Mattis warned of "a massive military response" to any threat from North Korea against the United States or its allies.
Additionally, Trump said "The United States is considering, in addition to other options, stopping all trade with any country doing business with North Korea."
China, which accounts for roughly 90 percent of North Korea's international trade, has slammed Trump's suggestion, calling it "unacceptable" and "unfair."
Beijing has urged North Korea to "stop taking actions that are wrong, deteriorating the situation, and not in line with its own interests either and truly return to the track of resolving the issue through dialogue."
China also called on all parties to "seriously consider" the double-freeze plan proposed by Beijing and Moscow and "actively respond to it."
The plan, which would see Pyongyang suspend its nuclear and missile tests in exchange for a halt in joint US-South Korean military drills, was previously rejected by Washington.
In July, the US imposed sanctions on a Chinese company and several Chinese citizens for allegedly helping North Korea in developing its nuclear and ballistic missile programs.
On August 5th, the UN Security Council unanimously agreed to impose more restrictive measures against Pyongyang, banning exports of coal, iron, lead and seafood, with the main burden for the implementation falling on China.
The move came in response to North Korea's missile launches in July. It was the UN's seventh round of sanctions against the country in 11 years.
However, Trump administration officials have said Beijing should do more to rein in North Korea.
China is not only North Korea's largest trade partner but also the US's, trading nearly $650 billion a year in goods and services.
You can share this story on social media: