'We are Americans': Activists protest Trump's decision to end DACA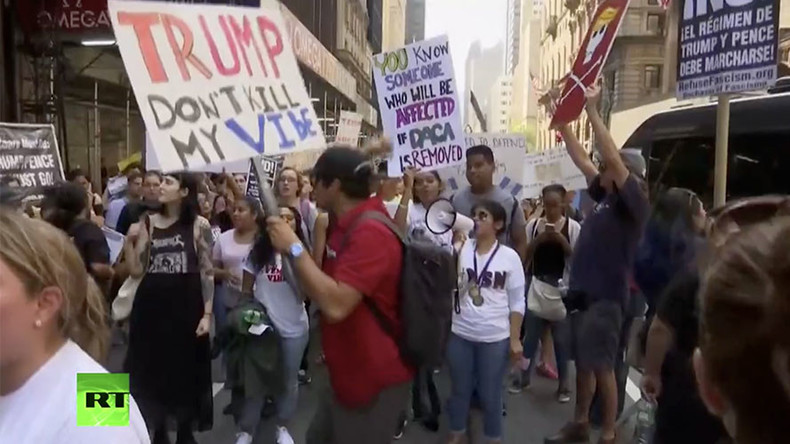 Thousands of protesters across several major cities gathered to denounce the Trump administration's decision to end the 2012 program that protected illegal immigrants who arrived to the US as children.
The Deferred Action for Childhood Arrivals (DACA) program represents an "executive amnesty" that deliberately circumvented the legislative process, Attorney General Jeff Sessions said on Tuesday.
The program will wind down over the following six months, giving Congress an opportunity to pass a law regulating the status of some 800,000 people affected.
READ MORE: Ending DACA: Trump gives Congress 6-month deadline on immigrant youths program
Activists angry over the decision rallied outside the White House in Washington, DC on Tuesday morning.

Jaime Contreras, vice-president of Service Employees International Union (SEIU) local 32BJ, pointed out his family fled the civil war in El Salvador.
A number of protesters also rallied outside Trump Tower in New York City, chanting "We are here, we're not going away" in Spanish and "Undocumented here to stay! Deport us? No Way!"
Others chanted: "Undocumented, Unafraid," and "Stand up! Fight back!"
Several activists who blocked 5th Avenue in front of Trump Tower were arrested, the National Lawyers' Guild (NLG) confirmed to RT. They reportedly belong to Cosecha, which describes itself as "a new national movement fighting for permanent protection, dignity and respect for all 11 million undocumented immigrants" in the US.
NYPD has made a total of 34 arrests at the protests Tuesday, Chief of Patrol Terence Monahan told reporters.
Another protest was organized outside the federal building in Philadelphia, Pennsylvania.
"I am a DACA recipient, now in the process and waiting for my third renewal," Farai Bravo, who attended Tuesday's protest outside Trump Tower in New York, told RT. "This impacts my life, in terms of my job security working in New York."
Bravo came to the US on a tourist visa from Mexico when she was four years old and stayed when the visa expired. She became politically active in high school, when she realized her higher education options were limited by her immigrant status.
"It's important to come together with other DACA recipients and supporters to make sure we continue to fight and pressure our politicians to make sure they pass comprehensive immigration plans not only for the DACA recipients but the rest of the 11 million undocumented," Bravo told RT.