Storm shark: How the same 'Great White' has stalked 4 hurricane disasters (PHOTOS)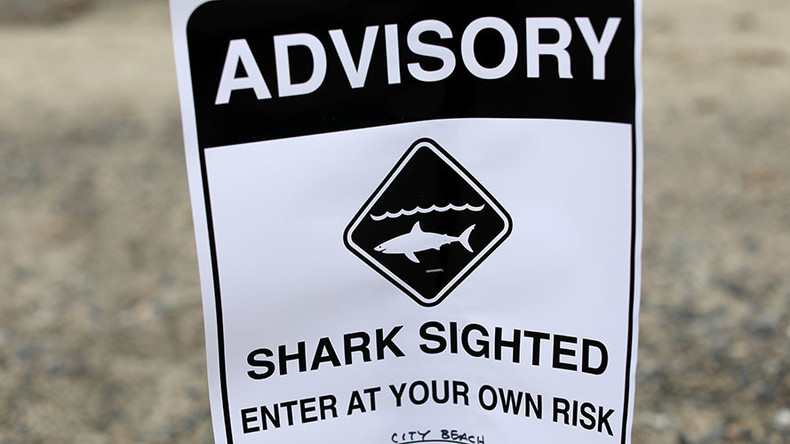 If a storm deluge transforms city streets into a canal-like stretches of water, then it's highly likely that a certain familiar shark will 'emerge' from the murky waters to take a huge bite of online Twitter traffic.
Ever since 2011, a picture of a large shark supposedly swimming down a flooded street has become a regular feature of hurricane posts online.
READ MORE: Irma threat: US weather agency warns over 'fake forecasts'
Its latest appearance came in the wake of Hurricane Harvey, with Twitter users posting that it was seen lurking around Texan highways.
One tweet about the sighting, which the poster later claimed was an "experiment," received 89,000 retweets.
Another post, in which the bizarre shark scene was described as a "nightmare come true," received over 1,000 likes and 2,500 retweets.
The image of 'Jaws' gunning it down the fast lane of a flooded motorway is social media gold - but it's also too good to be true and, as Snopes previously pointed out, the picture is actually two images spliced together.
To create the bogus image, the shark component was cut from a photo taken by Thomas S Peschak and pasted into a flooded highway scene.
Peschak is a marine photographer with National Geographic credits to his name. In 2015, he told Instagram followers that the photo was taken while on an assignment with the White Shark Trust.
"To take this photograph I tied myself to the tower of the research boat and leant out over the water. Once the first shark saw the kayak, it dove down to inspect it from below and then slowly rose to check it out.
"I took the shot a fraction of a second after its dorsal fin emerged, just as the research assistant turned to look behind him. For me it's that connection that makes the picture,"Peschak said.
In the aftermath of Hurricane Irene, which made landfall in Puerto Rico in 2011, the doctored image perhaps claimed its greatest scalp by making it onto TV news.
The fake image spreading again online when it was shared during Hurricane Matthew last year, and in the aftermath of the 2012 storm, Hurricane Sandy.