Chemicals at plant near Houston degrading, explosion inevitable – CEO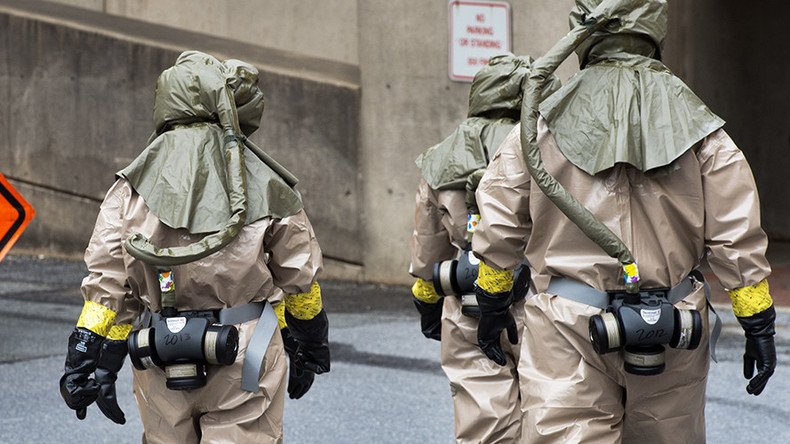 The CEO of the Arkema plant in Cosby, Texas has said that volatile chemicals at the facility northeast of Houston are degrading, which is expected to lead to a fire or explosion within the next six days.
There's no way to prevent an explosion or a fire at the chemical plant, Arkema's CEO Richard Rowe said during a conference call Wednesday, adding "We believe that any sustained environmental impact should be minimal."
The refrigeration system at the chemical plant, which produces organic peroxides for the plastics and rubber industries, has failed due to the Harvey flooding, the company said.
Arkema first warned residents about the possibility of an explosion at the facility Tuesday.
"At this time, while we do not believe there is any imminent danger, the potential for a chemical reaction leading to a fire and/or explosion within the site confines is real," the company said Tuesday.
READ MORE: 'Worst flood ever' hits Houston in wake of Hurricane Harvey - Live updates
That day, residents within 1.5 miles (2.4 km) of the Arkema chemical plant in Crosby were evacuated as a "precautionary measure," the local fire marshal's office said in a Twitter message.
The plant was heavily flooded and has been without electricity since Sunday, Arkema confirmed.
Organic peroxides need to be kept cool, otherwise they may explode. The plant's employees initially tried to move the volatile chemicals from warehouses into refrigerated containers powered by backup generators, but as the flooding intensified, some of the generators failed and the company decided to evacuate all workers on Tuesday.
Facility managers said they were monitoring the temperature levels remotely, and working with officials from the Department of Homeland Security.
Many homes and businesses are within two miles (3.2 km) of the facility.
Arkema's Crosby facility is among the Houston-area sites with the highest potential for harm in an incident, according to a 2016 analysis by Texas A&M's Mary Kay O'Connor Process Safety Center and the Houston Chronicle.
It would be surprising if the company had not considered a scenario like this, the Chronicle cited Sam Mannan of Texas A&M University's Mary Kay O'Connor Process Safety Center.
Companies typically would have the ability to quench the organic peroxides in situations like this with another chemical so it's no longer dangerous.
"You'll lose the feedstock but it's safer than letting it go into runaway mode," Mannan said.
You can share this story on social media: