US freedom of press 'under attack from Trump' – UN rights boss Zeid
Published time: 30 Aug, 2017 10:38
Edited time: 31 Aug, 2017 07:37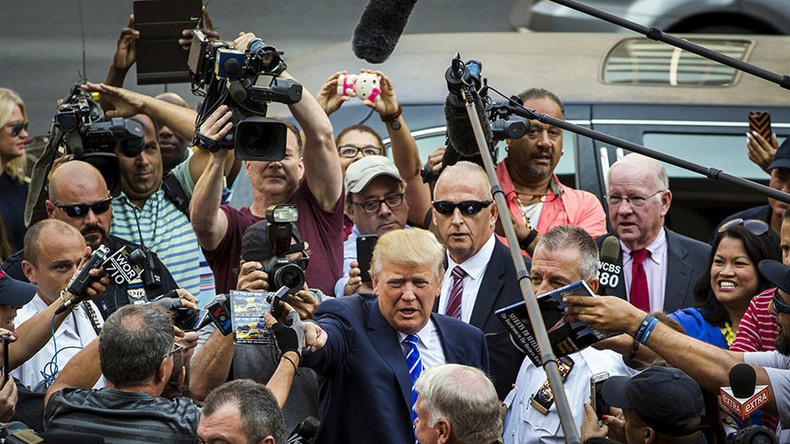 President Donald Trump is threatening freedom of the press in the United States, UN High Commissioner for Human Rights Zeid Ra'ad Al Hussein has warned.
"It's really quite amazing when you think that freedom of the press, not only sort of a cornerstone of the US Constitution but very much something that the United States defended over the years is now itself under attack from the president," Zeid told a news conference, as quoted by Reuters.
"It's sort of a stunning turnaround. And ultimately the sequence is a dangerous one," he added.
Zeid also said that derogatory remarks made by Trump about journalists could lead to incitement and encourage attacks on certain communities.
President Trump has long slammed mainstream media for its allegedly biased reporting and "fake news" articles.
He has taken particular aim at "garbage journalism" CNN and the "failing" New York Times.
Trump reiterated his stance on the media at a Phoenix rally earlier this month.
"But the very dishonest media — those people right up there with all the cameras … So the — and I mean truly dishonest people, in the media, and the fake media, they make up stories, they have no sources in many cases … they don't report the facts," Trump said.
"It's time to expose the crooked media deceptions and to challenge the media for their role in fomenting divisions, and yes, by the way...they are trying to take away our history and our heritage," he added.
Last month, Trump tweeted an edited video clip of himself at a World Wrestling Entertainment event, in which he appeared to attack a person whose head had been superimposed with the CNN logo.
The video was accompanied with the hashtags #FraudNewsCNN and #FNN.
CNN responded to the tweet by saying: "It is a sad day when the president of the United States encourages violence against reporters...we will keep doing our jobs. He should start doing his."
During a faith rally in Washington DC in July, Trump told the crowd that the "fake media is trying to silence us."
"But we will not let them. Because the people know the truth. The fake media tried to stop us from going to the White House. But I'm president and they're not," he added.
Trump was criticized in February after banning CNN, the New York Times and the Guardian from an off-camera press briefing, instead choosing to handpick a select group of journalists, mostly from conservative outlets.
Mainstream media outlets in the US did, however, provide unprecedented support to Hillary Clinton during the election. The New York Times, the Atlantic, and USA Today were among the many outlets which publicly announced their backing for Clinton.
A leak of classified Clinton campaign emails in October 2016 also showed the extent of the Democratic candidate's ties with the US media.
Meanwhile, a scathing report from the Senate Committee on Homeland Security and Governmental Affairs, published in July, outlined "at least 125 stories" between inauguration day and May 25 which included "leaked information potentially damaging to national security."
The Trump administration has vowed to crack down on leakers, though the battle is an uphill one, according to emails recently obtained by Breitbart which suggested that New York Times reporters are encouraging government employees to divulge information with the promise of anonymity.
Attorney-General Jeff Sessions, meanwhile, has said that he is reviewing the Justice Department's policy about issuing subpoenas to force reporters to reveal their sources.
"This nation must end the culture of leaks. We will investigate and seek to bring criminals to justice," Sessions told reporters earlier this month.
"We will not allow rogue anonymous sources with security clearances to sell out our country any longer."
Refusing a judge's order could theoretically result in prosecution or jail time for journalists.