US Air Force colonel sacked over affair at drone base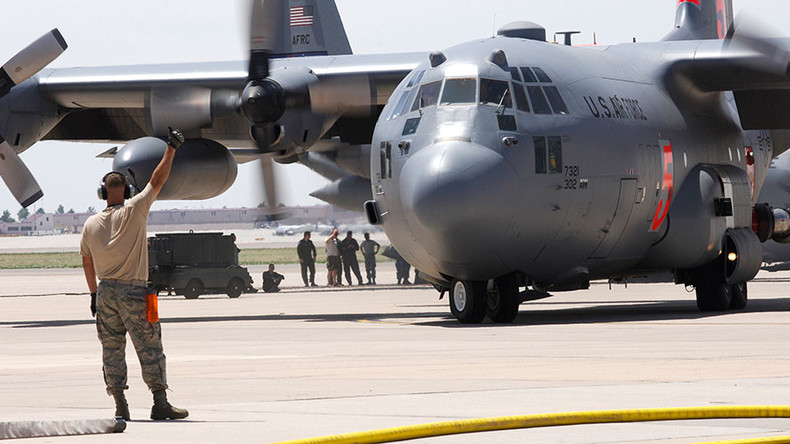 A senior Air Force officer will be dismissed from service for negligence, after being accused of having an affair with a female airman and excessive drinking at a US drone base in Tunisia. Prosecutors claimed he ran the base like a 'frat house.'
Lieutenant-colonel Denis Paquette pleaded guilty to fraternization, violating a lawful general order by having two drinks within 24 hours, and impeding an investigation.
Ruling in the case on Friday, the military judge Colonel Mark Milam found Paquette guilty of negligence, but cleared him of charges involving alcohol consumption and abusive sexual contact.
Paquette, a married father with more than 18 years in the Air Force, will not be eligible for retirement benefits, as his dismissal is the equivalent of a dishonorable discharge.
The charges stemmed from Paquette's tenure as commanding officer of the 722nd Expeditionary Air Base Squadron at Sidi Ahmed Air Base in Tunisia. The secret location in Africa for US drone operations was supported by 70 airmen and 20 contractors, according to court testimony.
Witnesses described Paquette as a personable commander who made it point of getting to know all his airmen. His leadership style backfired when his relationship with an 18-year-old female Security Forces airman went from mentoring to a close friendship and sexual attraction, according to testimony.
"It starts out with a mentorship but it goes way, way, way over the line after that," Major Rachel Lyons, senior trial counsel for the Air Force, said in court, according to the Stars and Stripes. "After that, he uses personal knowledge of her family to get closer to her … and to try to take the relationship to the next level."
When others became uncomfortable with how much time they were spending together, they were advised to limit their personal contact, but began writing "love letters" and drinking at a party one night.
Prosecutors alleged Paquette ran the base like a "summer camp" and a "frat house," and failed to enforce general orders over alcoholic beverages, with airmen keeping alcohol in their tents and parties going late into the evening.
Other testimony, however, said Paquette told them to be responsible and how he thought it important to keep morale high by not counting drinks.
Paquette was relieved of his command on August 2, 2016, three months after taking charge of the squadron.
During an investigation by the Air Force Office of Special Investigations (OSI), the letters were discovered and led to the charge of abusive sexual conduct.
In one of the letters, Paquette had written about a night when they had both been drinking and sitting next to each other: "I moved my hand to your leg to hold your inner thigh. Yikes!"
Prosecutors argued the airman was too drunk that night to remember or to consent to the touching.
Attorneys for Paquette said OSI took the probe too far, while the airman said she didn't feel like a victim.
"All along, this was always about a fraternization, about a relationship gone too far between an officer and enlisted and a violation of a general order," defense attorney Jonathan Crisp said after the trial. "OSI took the letters and made more out it."
Paquette could have faced up to a maximum of nine years in prison for all the charges he pleaded guilty to, but the judge declined to punish him beyond the dismissal.
You can share this story on social media: