Hundreds march in San Francisco against now-canceled 'Patriot Prayer' rally (VIDEO)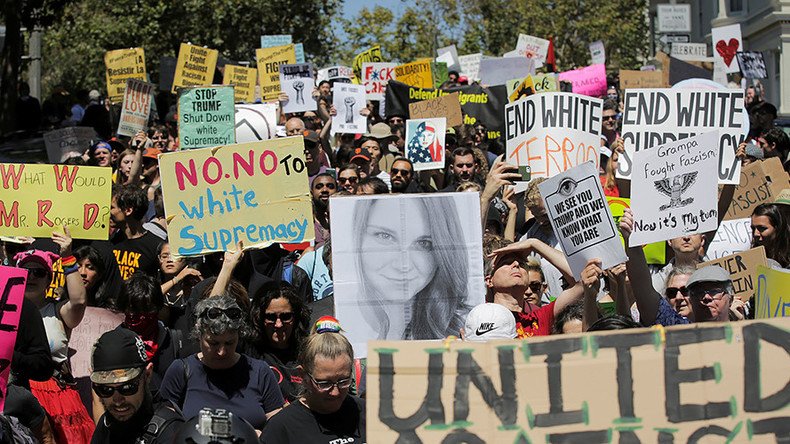 San Francisco authorities have banned a public gathering set up by the right-wing 'Patriot Prayer' group over fears of violent clashes, but hundreds of locals took to streets anyway to oppose racism and white supremacy.
Some of the counter-protesters who showed up at Saturday's march were holding banners that read, "Goodnight alt-right [as the movement brands itself]," "Fascists not welcome. No to white supremacy," "Stop racist police" and "No hate! No KKK! No Nazis in the USA!" according to NBC Bay Area.
The protest, which involved hundreds of people, went peacefully, with city authorities saying they were "extremely proud" of those who raised their voice against hate.
"They marched all throughout the city with that basic theme that we're going to resist hate, we're going to make sure our city is safe," San Francisco Mayor Ed Lee said.
"They marched for each other. They yelled and screamed for each other. They made sure that the themes of love and compassion dominated over hate speech and inciting violence."
The counter-protests came after an Oregon-based right-wing group Patriot Prayer tried to circumvent the cancelation of a controversial freedom of speech rally planned to take place at Crissy Field near the Golden Gate Bridge.
Joey Gibson, who leads the group, said on Friday he had to cancel the event for safety reasons, the Washington Post reported. "It doesn't seem safe," Gibson said on Friday night on Facebook Live.
According to Fox News, members of the group even received anonymous threats that made Gibson fear the police would fail to protect them.
"The rhetoric from Nancy Pelosi, Mayor [Ed] Lee, the media, all these people are saying that we're white supremacists and bringing tons of extremists … We have a lot of respect for the citizens of San Francisco, and at the end of the day we want people to be safe," he complained.
The Patriot Prayer event had earlier been criticized by federal politicians who argued their gatherings would lead to hate and racial violence.
House Democratic Leader Nancy Pelosi said earlier she was concerned about the danger to public safety "a white supremacist rally in the middle of a park" would create for families and children.
"Free speech does not grant the right to yell fire in a crowded theater, incite violence or endanger the public in any venue," she said.
Senator Dianne Feinstein (D-California) said in a letter to National Park Service officials the rally "poses very real threats to the public should the protest devolve into racial violence and clashes with law enforcement."
After canceling the Crissy Field rally, Gibson said Patriot Prayer planned to hold a news briefing on Saturday afternoon at Alamo Square Park to "talk about some of the rhetoric in San Francisco." Fearful of potential clashes, the city later installed fencing around the park and dispatched multiple police officers – some wearing riot gear – to surround the area.
Lee said in a Friday statement the authorities did not permit Patriot Prayer to stage any event at Alamo Square.
"San Francisco does not welcome outside agitators whose messages of hate have the sole purpose of inciting violence," Lee said, adding those who do so will be arrested and prosecuted.
Some counter-protesters, however, still tried to break into the park. NBC said 1,000 left-wing activists descended on Alamo Square, chanting "Whose streets? Our streets!"
Gibson says his group disavows racism and hatred and wanted to promote dialogue with people who may not share its views.
He told Fox News on Saturday that he felt like San Francisco's Democrats did their utmost to silence his voice.
"They're definitely doing a great job of trying to make sure my message doesn't come out," Gibson said.
The story comes just two weeks after right-wing activists, including neo-Nazis and Ku Klux Klan members clashed with anti-racism protesters in Charlottesville, Virginia.
Last week, 33 people were arrested in Boston as tens of thousands of demonstrators took to the streets to protest a controversial 'free speech' rally involving far-right activists.
You can share this story on social media: