New warrant issued for data on anti-Trump website visitors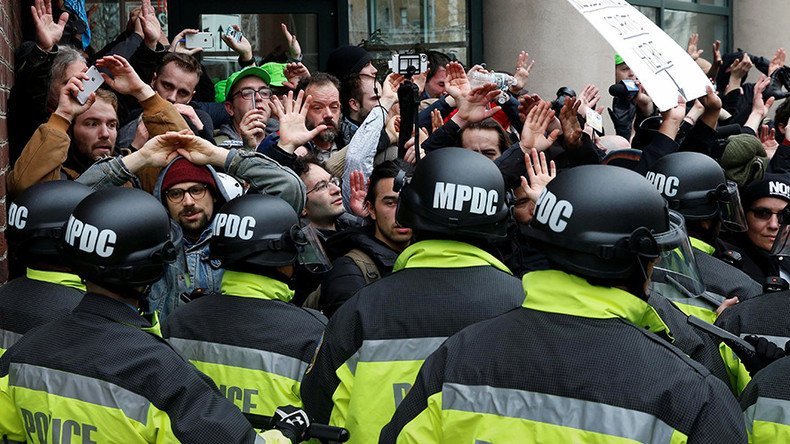 A US federal judge approved the Department of Justice request to obtain information on visitors of a website which organized protests against President Donald Trump's inauguration on January 20, after the government narrowed the scope of its search.
On Thursday, Judge Robert Morin of the District of Columbia Superior Court approved a DOJ request for a warrant seeking data on visitors of a website called disruptj20.org, which organized protests on inauguration day.
The DOJ claims it's looking for information on those who participated in riots that day. Judge Morin authorized the search, but said the government must ensure that the data of "innocent users" will not be seized by prosecutors.
In July, another judge granted a warrant demanding that DreamHost, the website's hosting company, provide "all" information available to them about visitors to the page.
Last week, DreamHost made public its attempts to appeal the warrant, saying that complying with it would involve handing over 1.3 million IP addresses, in addition to contact information, email content, and photos of thousands of people.
"In essence, the Search Warrant not only aims to identify the political dissidents of the current administration, but attempts to identify and understand what content each of these dissidents viewed on the website," the company's general counsel, Chris Ghazarian, said in a legal filing challenging the request.
On Tuesday, the DOJ submitted a revised warrant request, narrowing the scope of the search to exclude "any unpublished media" as well as HTTP access and error logs, meaning that "visitors' IP addresses are largely safe," DreamHost said.
The change was made "in light of factual revelations since July," the DOJ said.
"The government has no interest in records relating to the 1.3 million IP addresses that are mentioned in DreamHost's numerous press releases and Opposition brief," according to court filings.
"The Warrant is focused on evidence of the planning coordination and participation in a criminal act – that is, a premeditated riot. The First Amendment does not protect violent, criminal conduct such as this."
Here is the flash grenade they used that blinded me and left my ears ringing. Cops encircled crowd when I couldn't see; arresting everyone pic.twitter.com/bL2ulgv9DR

— Alex Rubinstein (@RealAlexRubi) January 20, 2017
The government's new, narrower warrant is an improvement — but problems remain, senior staff attorney at Electronic Frontier Foundation Mark Rumold told NPR.
"Most critically, DOJ is still investigating a website that was dedicated to organizing and planning political dissent and protest. That kind of activity — whether online or off — is the cornerstone of the First Amendment, and DOJ's ongoing investigation should be cause for alarm to anyone, no matter your political party or beliefs."
Trump's inauguration day saw massive protests in Washington, DC, which spilled into violence and riots in places. Over 200 people were indicted on rioting charges in connection with the protests, including several journalists who were covering the events.

You can share this story on social media: