Missing USS McCain sailors identified, US Navy suspends search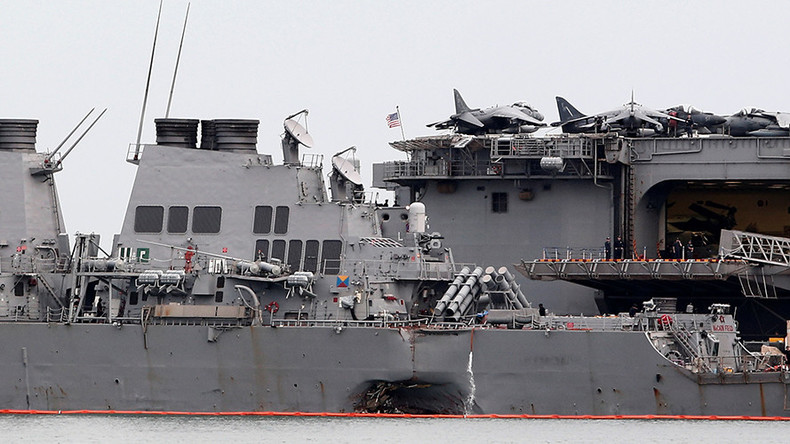 After more than 80 hours of efforts to find the missing USS John S McCain sailors in waters near Singapore, the US Navy has suspended search and rescue operations. The Navy has identified the nine sailors that remain missing and one who was confirmed dead.
The guided-missile destroyer collided with a commercial oil tanker east of Singapore on Monday. Ten sailors were reported missing, while five others were injured in the crash.
The collision caused significant hull damage, with flooding in berthing compartments as well as machinery and communication rooms, the Navy said.
On Thursday, the Navy said it will suspend the search of the area approximately 2,100 square miles east of the Straits of Malacca and Singapore, and continue search and recovery efforts inside the McCain's flooded compartments.
One sailor's remains have been recovered by Navy divers so far. He was identified as Kenneth Aaron Smit, 22, from New Jersey.
The nine sailors still considered missing are: Nathan Findley, 31 from Missouri; Abraham Lopez, 39, from Texas; Kevin Sayer Bushell, 26, from Maryland; Daniel Drake, 21, from Ohio; Timothy Thomas Eckels Jr., 23, from Maryland; Corey George Ingram, 28, from New York; Louis Doyon, 26, from Connecticut; Henry Hoagland III, 20, from Texas; and Stephen Palmer, 23, from Illinois.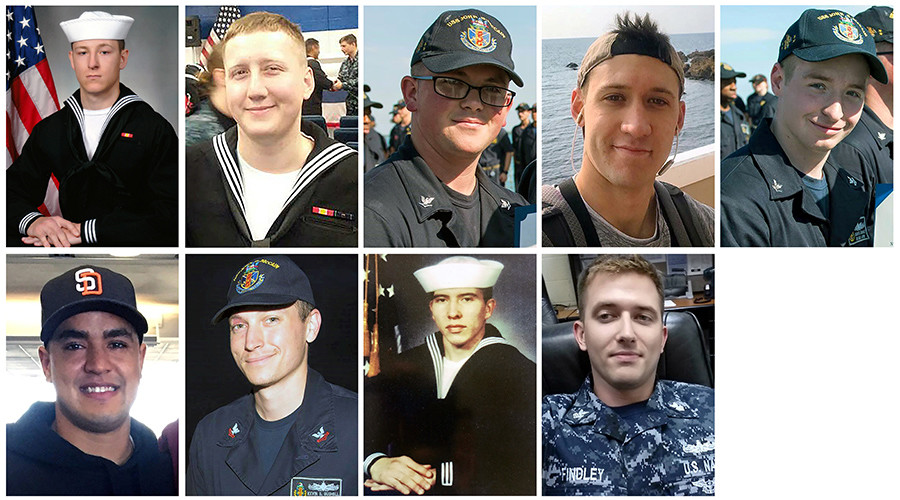 Multinational search efforts included ships and aircraft from the Republic of Singapore Navy, Singapore Air Force, Singapore Maritime Port Authority, Singapore Police Coast Guard, Royal Malaysian Navy, Malaysian Maritime Enforcement Agency, Indonesian Navy and the Royal Australian Air Force.
Following the collision, the US Navy announced an "operational pause" in all its fleets for 24-48 hours and ordered a review of the "root causes" of a series of incidents at sea.
On Wednesday, the Navy relieved the commander of the US 7th fleet, Vice Admiral Joseph Aucoin "due to loss of confidence in his ability to command." Aucoin was scheduled to retire next month.
The McCain's collision was the fourth major accident involving 7th Fleet ships over a year-long period.
In June, the guided missile destroyer USS Fitzgerald collided with a container ship off the coast of Japan. Seven sailors died in the accident. About 35 sailors were in the sleeping area when the cargo ship's bore tore a hole in the side of the Fitzgerald, causing the compartment to flood.
The destroyer's captain and executive officer were relieved of duty, after a Navy investigation.
In May, the guided missile cruiser USS Champlain collided with a South Korean fishing boat while conducting operations near the Korean Peninsula. No one was injured.
In January, another guided missile cruiser, USS Antietam, ran aground in Tokyo Bay.
There were no injuries but the ship spilled 1,100 gallons of hydraulic oil into the water off the coast of Japan, promoting environment concerns.
The USS McCain incident is under investigation to determine the facts and circumstances of the collision.