US travel warning for Cancun & Mexican vacation spots cites gang-related 'turf battles'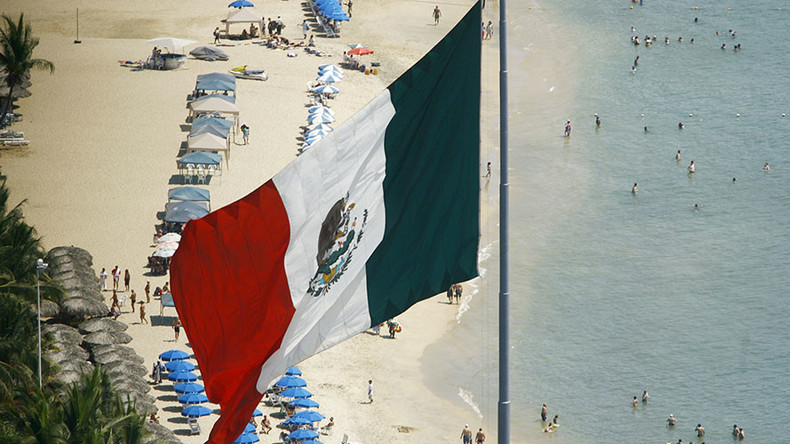 Popular Mexican vacation hot spots for Americans may not be safe to visit, the US is warning American travelers. The warning targets two Mexican states that are rife with gang violence, and includes Cancun and Playa Del Carmen.
The warning issued on Tuesday upgraded information in the two states. Quintana Roo, which was previously only targeted in a December report for lack of internet and cell phone service in some areas, and Baja California Sur, citing increased homicide rates from this time last year, according to the US State Department Travel Warning.
Quintana Roo has had 169 murders this year. The department states that turf wars between gangs are the reason for an uptick in violence, Bloomberg Politics reported.
The warning also states that US citizens should "defer non-essential travel" to certain areas in Mexico because US government personnel and their families are prohibited from traveling to the areas outlined in the warning. As a result of this, personnel response times in an emergency may be "hampered or delayed."
The expanded travel warning may hurt these areas, which pull in $20 billion a year for Mexico. Quintana Roo houses the resorts of Tulum and Cozumel, which attract 10 million tourists a year. This amounts to one-third of the national total for tourists.
"Shooting incidents, in which innocent bystanders have been injured or killed, have occurred" in both areas, the US warned, according to the State Department document. "While most of these homicides appeared to be targeted criminal organization assassinations, turf battles between criminal groups have resulted in violent crime in areas frequented by US citizens."
Quintana Roo's tourism ministry responded to the warning quickly, saying in a statement that the state is "safe and protected" and the government will continue to collaborate with US and federal officials regarding security, according to Bloomberg.
Coparmex is a business group that represents more than 200 hotels, restaurants and other companies in Cancun. The business says the warning will affect bookings in the winter when Americans head to the beaches to stave off the cold weather.
The head of Coparmex in Cancun, Adrian Lopez Sanchez, says that security is beginning to improve right now after declining earlier this year and last year.
Occupancy at hotels in Cancun, Playa Del Carmen and surrounding resorts rose to 78.6 percent in the year through July. That is an increase from the 75.1 percent in the period a year earlier, according to STR, which provides data and analytics on the lodging industry, Bloomberg reported.
READ MORE: More migrants leave US for Canada, but crossings from Mexico spike
"Tourism is very sensitive," Sanchez said, according to Bloomberg. "Warnings directed toward the US market are significant."
Tourism officials in Riviera Maya, a 140-mile-long area of the Caribbean coastline, which includes Cancun, Playa del Carmen and Tulum, have already been on the defensive this year regarding vacation advisories, following the death of a 20-year-old Wisconsin woman named Abbey Connor.
Connor allegedly consumed tainted alcohol at a resort in the area and later died, according to the Los Angeles Times.
The State Department issued a report after that incident advising US citizens to drink alcohol in moderation and seek help if they begin to feel ill, CNN reported.
You can share this story on social media: