Sun king: Trump looks at solar eclipse without protective glasses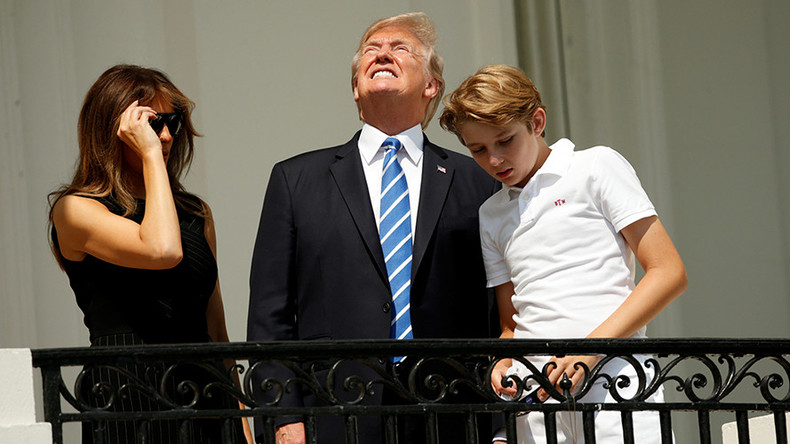 President Donald Trump viewed the solar eclipse a bit more closely than others, and not just because he was standing on a White House balcony. Trump removed his protective eyewear to wince into the sun's rays.
The president was joined by his wife Melania, his son Barron and daughter Ivanka for the nationally celebrated celestial anomaly. They collectively arrived on the Truman Balcony at 2:38pm on Monday afternoon to watch the eclipse unfold, USA Today reported.
The eclipse in DC was only partial, as opposed to the total solar eclipse experienced in a strip of the country stretching from Oregon to South Carolina.
Trump initially was not wearing the protective cardboard glasses when he arrived to view the eclipse. The president even ignored an aide who yelled, "Don't look," before he glanced at the eclipse without the glasses on, multiple media sources reported.
Some US citizens lampooned the president on Twitter for not wearing his protective eyegear.
The commander-in-chief eventually put the eyewear on, and gave a thumbs-up to the eclipse, according to Politico.
Lawmakers residing outside of DC also viewed the skies above them in hopes of observing the moon fully obscuring the sun.
Senator Lindsey Graham (R-South Carolina) laid back in a chair outside to experience the event and tweeted, "I'm ready!"
Senator John McCain (R-Arizona) was accompanied by his daughter, Meghan, as they decided to go on a hike to bear witness to the eclipse.
And Senator Ted Cruz (R-Texas) peered into the sky with his protective eyewear from San Antonio, Texas.
Residents around the country were also excited to witness the event and flooded Twitter with photos they snapped of the eclipse.
US Commerce Secretary Wilbur Ross and Attorney General Jeff Sessions stood by the first family to experience the eclipse, Yahoo reported.
Rounding out the group of high-level DC officials on hand looking at the sky at the White House was Interim Communications Director Hope Hicks, US Trade Representative Robert Lighthizer and Advisor Omarosa Manigault.
The last total solar eclipse in the US took place on February 26, 1979, and was viewable from the Pacific Northwest.
You can share this story on social media: