Trump set to announce Afghan strategy after 'rigorous' review of options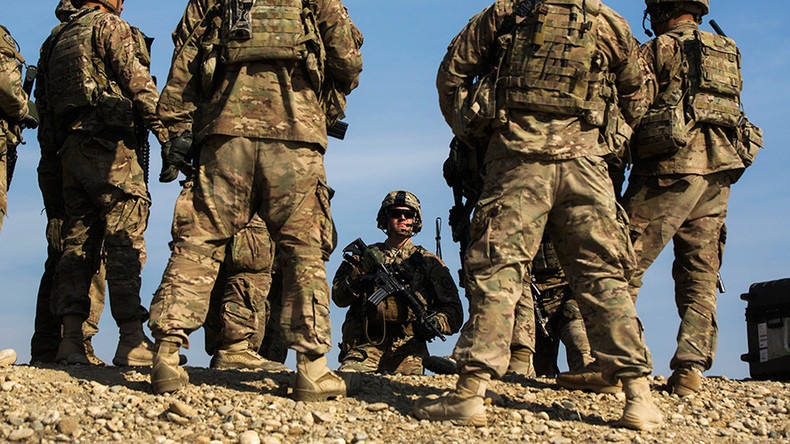 Donald Trump is expected to announce his long-overdue military strategy for Afghanistan on Monday evening, following a "sufficiently rigorous" review. Russia has repeatedly criticized the "failed" US campaign, urging it to withdraw troops.
The president will "provide an update on the path forward for America's engagement in Afghanistan and South Asia" at 9pm (ET) out of Fort Myer in Arlington Monday, the White House said in a statement.
US lawmakers have for months been pressuring the Trump administration to come up with a viable military strategy to the conflict that has stretched on for 16 years.
READ MORE: 'Loser superpower': Russian senators claim US campaign in Afghanistan ended in failure
On Friday, Trump gathered his national security team in Camp David as the administration continues to weigh plans to send additional several thousand troops to Afghanistan to help local local forces battle the resurgent Taliban and al-Qaeda forces.
More than a dozen aides, including National Security Adviser H.R. McMaster, Secretary of State Rex Tillerson and Secretary of Defense Jim Mattis were present at Camp David to discuss Washington's Afghan strategy and the approach towards South Asia, specifically, Pakistan and India.
Following the meeting, Trump tweeted that he made "many decisions" at the gathering. The president, however, failed to disclose further details.
On Sunday, referring to the outcomes of Camp David, Mattis confirmed that Trump has made a decision after a "sufficiently rigorous" review of the options presented.
"I am very comfortable that the strategic process was sufficiently rigorous and did not go in with a pre-set position," Mattis told reporters. "The president has made a decision. As he said, he wants to be the one to announce it to the American people."
According to reports, Mattis supports the plan of General John Nicholson, commander of US Forces-Afghanistan, who said the US needs an additional 3,000-5,000 troops to be successful in the region. After the 2014 'withdrawal' from Afghanistan, some 8,400 American troops remain in a train and assist capacity. That's in addition to a 5,000-strong NATO contingent there.
Speaking on condition of anonymity, a US official told Reuters that Trump's advisers are backing the initiative to send up to 5,000 troops to the central Asian country with authorization to take a more active part in zones close to the combat theatre.
However, the idea of sending more US troops to Afghanistan is being opposed by some lawmakers.
"I don't believe putting more American soldiers in Afghanistan is the answer," Senator Ben Cardin, a Democrat who sits on the Senate Foreign Relations Committee, told 'Fox News Sunday.'
Moscow has previously said that the US campaign in Afghanistan was a failure and called for a troop withdrawal.
"Moscow never hastened the withdrawal of US troops from Afghanistan. But since the US Army [campaign] there has come to nothing, let them leave Afghanistan," a Russian Foreign Ministry official said last week. He added that the anti-terrorist operation "looks more like a colonial policy, an attempt to keep the US military contingent there at any cost."