Trump applauds nationwide protests that 'heal, make decades divided US stronger'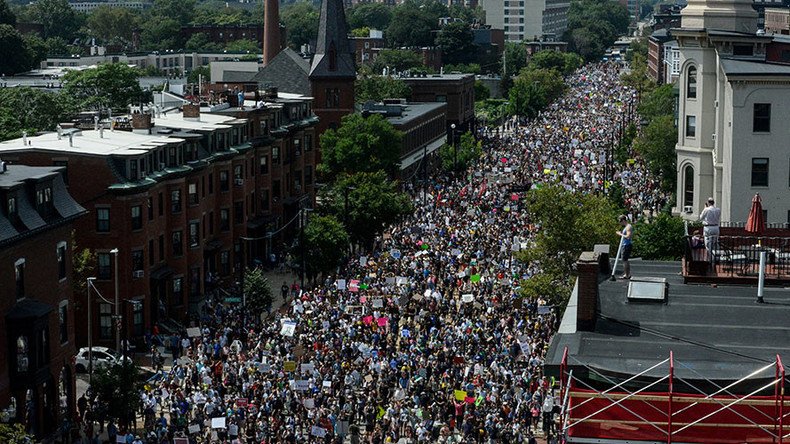 Divided over white supremacy tensions and the removal of historic Confederate monuments, people across US took their grievances to the streets Saturday. Donald Trump, meanwhile, took to Twitter to applaud those standing against "bigotry and hate."
Amid the mass public rift, president Donald Trump urged authorities and people in both camps to stay vigilant for "anti-police agitators" among their ranks, before endorsing the counter rallies as a means to unite the nation.
Our great country has been divided for decades. Sometimes you need protest in order to heal, & we will heal, & be stronger than ever before!

— Donald J. Trump (@realDonaldTrump) August 19, 2017
"Our great country has been divided for decades. Sometimes you need protest in order to heal, & we will heal, & be stronger than ever before!" he said on Twitter. "I want to applaud the many protestors in Boston who are speaking out against bigotry and hate. Our country will soon come together as one!
I want to applaud the many protestors in Boston who are speaking out against bigotry and hate. Our country will soon come together as one!

— Donald J. Trump (@realDonaldTrump) August 19, 2017
Boston 'Free Speech Rally'
A 'Free Speech rally,' which some fear includes white supremacists, and a counter-protest have been held in Boston. Police have tightened security, even banning poles for flags and signs, to prevent a repeat of the violence seen in Charlottesville.
The rally is being staged by the Boston Free Speech Movement, which has distanced itself from far-right groups, stating that it is "dedicated to peaceful rallies" and is "in no way affiliated with the Charlottesville rally," which turned deadly a week ago.
"We are a coalition of libertarians, progressives, conservatives, and independents and we welcome all individuals and organizations from any political affiliations that are willing to peaceably engage in open dialogue about the threats to, and importance of, free speech and civil liberties," the statement on the movement's Facebook page reads.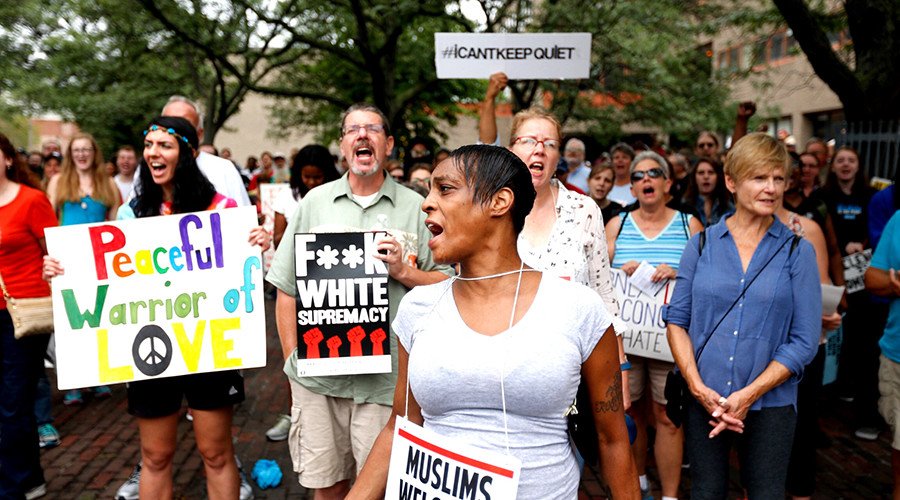 Counter-protesters said the Free Speech Rally accommodates "white supremacists," before the demonstration even began, and called for it to be opposed.
"White Nationalists are converging on Boston Common to reinforce their white supremacist ideology and attempt to intimidate queer and BIPOC (Black, Indigenous, POC) communities," a statement on the counter-protest Facebook page reads.
Boston's mayor has warned far-right groups, in case they do show up, to abstain from violence.
"Make no mistake: we do not welcome any hate groups to Boston and we reject their message," Mayor Marty Walsh said. Massachusetts Republican Governor Charlie Baker also said that extremist violence would not be tolerated.
Around 500 police officers, both uniformed and plainclothes, have been deployed to the streets to prevent possible clashes between the groups, according to Police Commissioner William Evan. Security is tight, as marchers are prohibited from bringing placards on sticks or flags on poles, since they could be used as weapons.
The city of Boston has issued an advisory, urging citizens to abstain from visiting Boston Common during the rallies, stating that "large crowds" were expected to attend them.
"We recommend everyone stay away from the Boston Common if possible. We believe in tolerance, unity, and equality, and urge everyone to stay safe and respect our City," the advisory reads.
While police have not provided any official figures yet, photos and live feeds from the scene indicate that counter-protesters largely outnumber 'Free speech rally' participants.
The rally and counter-rally are taking place a week after the events in Charlottesville, where a 'Unite the Right' white supremacist rally and counter-protests resulted in violent clashes. One person was killed and nineteen injured in a car rampage, when suspect James Fields Jr. drove his car into a crowd of counter-protesters. The incident triggered nation-wide protests against right-wingers, and triggered or sped up the dismantling of Confederate monuments in a number of cities.
Following the announcement of the conclusion of the 'Free Speech Rally,' light skirmishes broke out between police and counter protesters. Riot police had to step in and push the counter protestors back.
Boston police have arrested 27 people during the protests against the 'Free Speech rally,' Reuters reports, citing the city's police commissioner. The detentions were mainly over disorderly conduct, some assaults and battery.
'Destroy the Confederacy' in Houston
The Houston chapter of Black Lives Matter has staged a rally called 'Destroy the Confederacy' at Sam Houston Park, urging the city to remove the 'Spirit of the Confederacy' statue from the park.
"We will meet at Sam Houston Park to demand that the City of Houston ERASE THE CONFEDERACY! It is a STAIN IN THE FABRIC of our history that needs to be removed," a statement on the event's Facebook page reads, urging the participants not to bring children.
Violence at the rally, however, is not anticipated, as police are ready, Mayor Sylvester Turner believes.
"I just hope people will be respectful and follow the laws and will act in a very civil way," Turner said on Thursday. "You know, people have the right to voice their First Amendment. But I have so much confidence in HPD in making sure that everything is handled in a very orderly and respectful fashion."
Demolition of the statue is already on the city's agenda, as they say they are committed to removing all Confederate monuments from public property. The 'Spirit of the Confederacy,' a bronze statue of an angel with a sword and a palm branch, was erected in the early 20th century.
'Dallas against White Supremacy' rally
Over two thousands activists descended on downtown Dallas, calling for an end to Dallas' Confederate memorials. Gathering outside City Hall and the nearby Confederate War Memorial, activists denounced the Confederate symbols in the city.
"March against Hate,""Thanks Trump, You made me into an activist," "Make America whole again," the activists shouted demanding that Dallas' Confederate memorials come down.
The crowd was met by a counter rally which demanded the monuments be left intact. Amid the shouting and shoving, the crowds managed to avoid major clashes.
Police on horseback and others in riot gear had to intervene to break up the sides protecting and opposing the confederate monument. Although some protesters on both sides were armed, there were no reports of injuries.
Earlier authorities warned that all precautions will be taken and any people violating public safety will be arrested, Dallas police said in a Facebook post.
"The Dallas Police Department will not interfere with a lawful and peaceful assembly of any individuals or groups expressing their First Amendment rights," the post said. "The Dallas Police Department will take enforcement action if any type of criminal offense is committed against any person or property."
You can share this story on social media: