8 charged in toppling Durham Confederate statue while others try to turn themselves in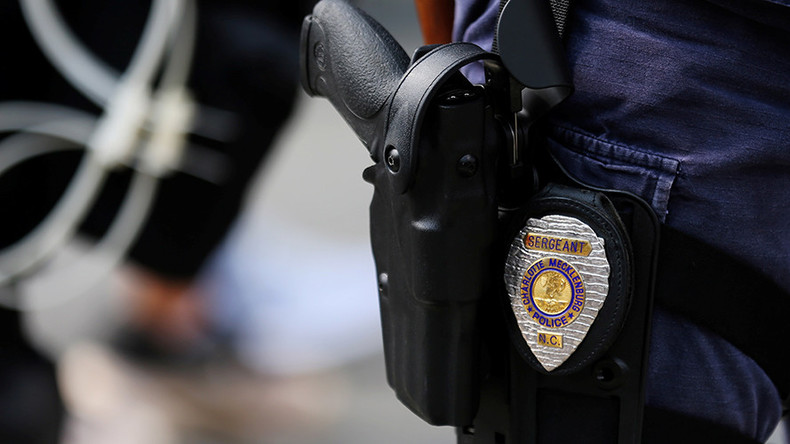 Four more protesters have been arrested and charged with felony counts over the toppling of a Confederate soldier statue in Durham, North Carolina. Hundreds of people tried to symbolically turn themselves in before being directed away from the courthouse.
"We do not want charges, especially felony charges brought against those who acted in our best interest," activist Serena Sebring told reporters at the courthouse Thursday.
Sebring said she was not involved in Monday's action but was rallying with hundreds of others in support of those arrested and charged.
There have been eight arrests since the statue of a Confederate soldier was torn down Monday night.
Four more activists turned themselves in Thursday, with the solidarity group accompanying them to jail. They have been identified as Raul Jimenez, 26, Aaron Caldwell, 24, Elena Everett, 27 and Taylor Cook, 24, all residents of Durham.
They have been charged with three misdemeanor counts of causing injury to property and defacing a public monument, and two felonies for participating and inciting a riot with property damage in excess of $1,500. They will appear in court on Friday.
Caldwell told the Durham Herald-Sun he was notified by a legal team associated with the activists that there was a warrant for his arrest.
The crowd then returned to the courthouse where three other activists, who were arrested by Durham County sheriff deputies Wednesday, were scheduled for a court hearing. Those were identified as Peter Gilbert, 36, Dante Emmanuel Strobino, 35 and Loan Tran, 24 all of Durham.
The first arrest made in the case was Takiyah Thompson, 22, who was taken into custody on Tuesday.
"Our response to the charges that have been brought against myself and others involved and Takiyah, are [that] the charges are outrageous, the charges are unnecessary," Tran told the Herald-Sun.
Tran added that the charges represented "a deeply racist, white supremacist system that is more interested in preserving its relics of white supremacy."
She said people in her community are more concerned with issues surrounding policing, incarceration, education and immigration justice, "issues that are impacting our people every single day."
The three activists were given a court date of September 12.
Thompson, a member of the Workers World Party and a student at North Carolina Central University, had a court hearing on Wednesday. Thompson said she was the one who tied a rope around the neck of the statue so others could pull it down.
Local lawmakers tried to intervene on behalf of the activists. Durham City Council member Charlie Reece approached Sheriff Mike Andrews not to press felony charges against the accused.
Reece had questioned whether the statue, which he called a "hunk of junk metal" was worth $1,500, according to the Herald-Sun.
Sheriff Andrews was emphatic at a news conference Tuesday, however.
"Let me clear, no one is getting away with what happened," he said.

Monday's protest in Durham was in part galvanized by a confrontation in Charlottesville, Virginia over the weekend, when a rally called to unite white supremacist groups around preserving a monument dedicated to Confederate Robert E. Lee turned into clashes with counter-protesters. On Saturday afternoon, a car crashed into a group of counter-protesters, killing a woman and injuring 19 other people.
You can share this story on social media: