'Mind your own business': Iran's Ayatollah Khamenei scolds US after Charlottesville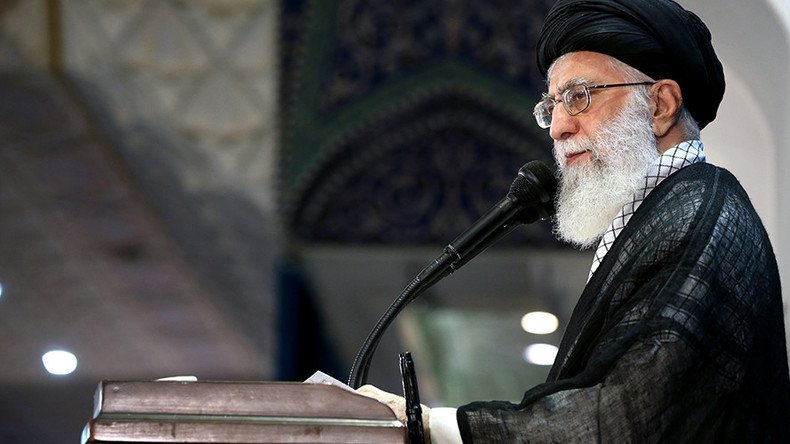 After the events in Charlottesville last week, Iran's Supreme Leader has advised the US to get its own house in order before meddling in the affairs of other countries.
On Wednesday, Ayatollah Ali Khamenei took to Twitter to advise the US to "manage their country, tackle #WhiteSupremacy rather than meddle in nations' affairs."
Khamenei used the hashtag #Charlottesville and included a black-and-white picture of himself holding a young black child.
The tweet was posted as a response to last week's rally in Charlottesville, Virginia, which turned deadly after a Unite the Right march participant drove his car into a crowd of counter-protesters, killing a woman and injuring 19 people.
President Donald Trump drew international criticism after he told a news conference there was "blame on both sides."
Earlier this month, Trump drew the ire of Iranian leaders when he authorized new sanctions against the Islamic Republic.
On Tuesday, Khamenei took aim at the Trump administration, advising the US to "fix racial discrimination and the disastrous violations of human rights for both whites and blacks in your own country!"
"If you are a powerful state, then go manage your own country! If you really care, then tackle the insecurities and violence on the streets of Washington DC, New York City, and Los Angeles!" Khamenei said in a statement. "Mind your own business, rather than meddling with other nations' affairs!"
The Iranian foreign ministry also accused the US of hypocrisy after the annual International Religious Freedom Report was released Tuesday, which was very critical of Iran.
"In the time of communications and the current intertwined world, one can clearly see that racial and religious discriminations, Islamophobia, and xenophobia are prevalent and common phenomena among American statesmen," Bahram Qassemi, a spokesman for the Iranian foreign ministry, said in a statement.
Khamenei, has in the past, used Twitter to criticize former President Barack Obama on race relations. In 2015, Khamenei tweeted his support for the Black Lives Matter movement after a number of police shootings made headlines.
Khamenei has also used Twitter to call Israel a "Hideous Entity In the Middle East Which Will Undoubtedly Be Annihilated."
He has even used the social media platform to question whether the Holocaust ever took place.
Several users were quick to point out Khamenei's hypocrisy, with one user asking, "What about the racism of your state & your treatment of #Kurds #Arabs #Baluch #Turkmen & the violence imposed on them since 79"
You can share this story on social media: