Cartoonist illustrates Trump tweets, book hits Amazon top 10
Published time: 16 Aug, 2017 02:25
Edited time: 16 Aug, 2017 08:23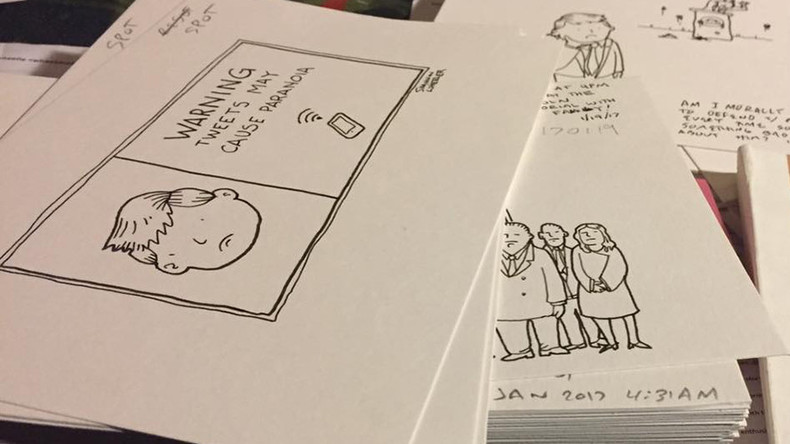 A cartoonist hoping to provide a better understanding of "the mind we elected" has drawn more than 120 of President Donald Trump's most inflammatory 140-character missives and compiled it in a new book.
After combing through more than 30,000 of Trump's tweets since he began using the social media platform in 2009, Shannon Wheeler, a cartoonist for the New Yorker, Mad Magazine and the Onion, chose to illustrate 120 of them in the new book, "Sh*t My President Says: The Illustrated Tweets of Donald J. Trump."
Wheeler says he was inspired to create the book depicting the commander in chief's use of Twitter just after Trump took office.
"I started doodling and said these are perfect," Wheeler told KOIN. "They're funny, they're tight. As tweets, they're short and to the point."
When he began, Wheeler said he drew Trump looking like "an ogre" and "a mean person," but said that it was not right fit for the book.
"I was trying to draw him 'ugly' and it was not working, and then I was starting to feel: 'What is inside of him?' It is the impish child," Wheeler told the Washington Post. "This is the [playground] kid who would be made fun of if he weren't making fun of other people."
After sifting through tens of thousands of Trump's tweets, Wheeler said he found several repeating themes. In the introduction to his book, Wheeler writes that Trump uses Twitter to encourage "his fans to be themselves – not with aspiration, but indulgence."
"Be sexist. Be racist. Be fearful. Be selfish. Hate and fear the world. Consume. Be materialistic. Drive a big car. Drive as much as you want – there's plenty of oil in the world," Wheeler wrote.
"Trump will be the global bully to make sure our empire, and your self-indulgence, is assured."
Wheeler said that he was not only looking to parody Trump or make him into a caricature. He also wanted to "show how he [Trump] contradicts himself, and lead the reader to question reality."
"By using Trump's own words, and placing them in the context of his cartoon universe, I hope to give the reader a better chance of understanding the mind we elected," Wheeler wrote in the introduction to the book.
After spending months pouring over Trump's tweets, Wheeler said he has still not been able to figure one thing out: "How did we wind up with this president?"
"I keep thinkingI've been inoculated, but then I read something new that [hits] like an adrenaline shot to the hypothalamus," Wheeler told the Washington Post. "As horrifying as it is for people, it's also a sort of entertainment for [much of] the country."
Wheeler's book will be available in stores this Sunday. Since going on sale online this week, it has become the number one best selling comic strip on Amazon and hit the top 10 best selling books Monday.