US govt spends $76bn to arm & equip Afghan forces - new report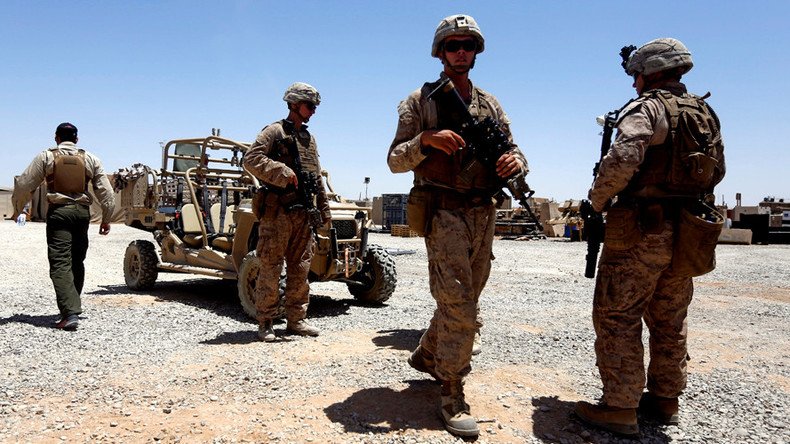 The Pentagon has spent $76 billion on weapons and equipment for the Afghan army and police since 2001, the US Government Accountability Office said. The report comes as President Donald Trump says he is "very close" to announcing a new strategy on Afghanistan.
The US has paid for 600,000 weapons, including rifles and pistols, for the Afghan army and police, the GAO report released on Thursday said. The funding also went to buy more than 25,000 grenade launchers and almost 10,000 rocket-propelled weapons to be used by the Afghans.
Additionally, the US has given to the government in Kabul 162,643 pieces of communications equipment and nearly 76,000 vehicles.
Earlier this summer, the Special Inspector General for Afghanistan Reconstruction (SIGAR) slammed the Pentagon for spending money on uniforms that Afghan forces didn't need.
The US has spent $93.81 million over the past decade to provide Afghan troops with uniforms of a "forest" camouflage pattern which is largely unsuitable for Afghanistan's landscape, a SIGAR report said.
Billions have been squandered on projects that were useless, or lost to waste and corruption, according to SIGAR.
The US's profligate spending in Afghanistan is "the definition of insanity — doing the same things over and over again, expecting a different result," Special Inspector General John F. Sopko told NBC News last year.
The US is overall estimated to have spent over $700 billion on military assistance, reconstruction and economic aid to Afghanistan in the past 17 years of war, which began in 2001 as a response to Afghanistan's harboring of Al-Qaeda following the 9/11 terrorist attacks. With Al-Qaeda in the country largely defeated, the war has morphed into a fight with local Taliban insurgents.
On Thursday, President Trump told reporters that he's "very close" to announcing his administration's new strategy on Afghanistan.
"It's a very big decision for me. I took over a mess and we're going to make it a lot less messy," he said.
US officials had earlier promised to deliver an updated strategy by mid-July, but the decision-making stalled.
The commander of US forces in Afghanistan, General John Nicholson, as well as Trump's national security adviser, H.R. McMaster, suggested adding some 4,000 American troops to the nearly 9,000 already deployed in Afghanistan.
Trump reportedly lashed out at top US military officials in a July meeting for losing ground in Afghanistan and questioned whether America's longest war is still worth fighting. "We are losing," Trump said, according to an NBC report.
The president also reportedly considered firing the commander of US forces in Afghanistan.
In 2013 Trump tweeted: "We have wasted an enormous amount of blood and treasure in Afghanistan. Their government has zero appreciation. Let's get out!"
The US-backed government in Kabul controls about 60 percent of the country - down from 65 percent the same time last year, according to the US military headquarters in Kabul.
Meanwhile, the Taliban is gaining ground. Last week, militants gained control of a key area in Afghanistan's north Sari Pul province.
Earlier this summer, the Taliban raided and seized the district of Jani Khel in Paktia province, south of Kabul. The fall of Jani Khel marked its third victory in just four days.
Deaths of Afghan security forces in the early months of 2017 were "shockingly high," SIGAR recently reported.
The Obama administration said a political solution that would involve the Taliban was necessary to end the conflict. The Trump administration has yet to outline its position.
You can share this story on social media: