Pentagon wasted $93 million on 'forest' camouflage uniforms for Afghan troops – report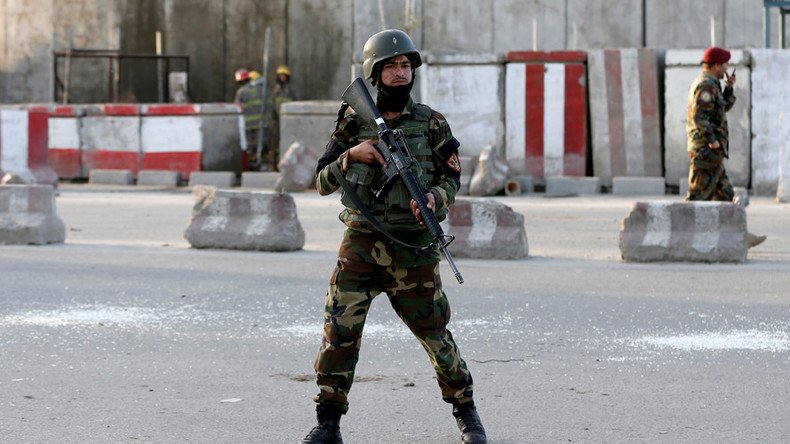 The Pentagon spent $93.81 million over the past decade to provide Afghan troops with uniforms of a "forest" camouflage pattern which is largely unsuitable for Afghanistan's landscape, according to a report by the Special Inspector General for Afghanistan Reconstruction (SIGAR).
"Forests cover only 2.1% of Afghanistan's total land area," the report notes. The 17-page document further estimates that the Pentagon wasted up to $28 million simply because it chose to buy the pattern from a private firm.
"CSTC-A's decision to procure ANA uniforms using a proprietary camouflage pattern was not based on its appropriateness for the Afghan environment and appears to have cost up to $28 million more than buying similar uniforms using a non-proprietary camouflage pattern," the report says.
In 2007, the Pentagon offered the woodland pattern to Afghanistan's Defense Minister Abdul Rahim Wardak and, according to the SIGAR report, he "liked what he saw."
"My concern is what if the minister of defense liked purple, or liked pink? Are we going to buy pink uniforms for soldiers and not ask questions? That's insane. This is just simply stupid on its face," Special Inspector General John Sopko told USA TODAY. "We wasted $28 million of taxpayers' money in the name of fashion, because the defense minister thought that that pattern was pretty. So if he thought pink or chartreuse was it, would we have done that?"
The Pentagon did not dispute SIGAR's findings, and in a statement by Jedidiah Royal, the acting deputy assistant secretary of defense for Afghanistan, Pakistan, and Central Asia, said, "DoD concurs in the suggestion contained in this report that a DoD organization with expertise in military uniforms should conduct a cost-benefit analysis of the current Afghan National Army (ANA) uniform specifications to determine whether there is a more effective alternative, considering both operational environment and cost."
Notably, in 2010 HyperStealth which sold the forest pattern, acknowledged the woodland design may seem an "odd choice" for Afghanistan, but said "there was a great deal of research which went into the selection process," with one of the suggested benefits being, "Darker colors have a greater psychological impact (based on numerous studies) providing a greater sense of authority and strength to both the user and the viewer than lighter colors do."
Sen. Chuck Grassley, an Iowa Republican and senior member of the Budget and Finance committees, blasted what SIGAR concluded was a waste of millions of taxpayer money: "You'd think the Pentagon would have had a good handle on how to pick the right camouflage for uniforms," he said. "Those who wasted money on the wrong camouflage uniforms seem to have lost sight of their common sense."
Afghanistan's armed forces are funded primarily through the Pentagon's Afghanistan Security Forces Fund (ASFF), which in the fiscal year 2017 amounted to $4.26 billion. President Donald Trump's 2018 budget request would see the funding increased to $4.937 billion.
Overall, the Pentagon had spent $66 billion to train, equip, build infrastructure for, and sustain Afghan forces.
During a hearing about the Pentagon budget earlier in June, Defense Secretary Jim Mattis said, "We are not winning in Afghanistan right now." He also said the US has yet to come up with a strategy in Afghanistan. Senators threatened to cut funding without a clear plan.
You can share this story on social media: