Trump can strike North Korea without approval from Congress - Sen. Graham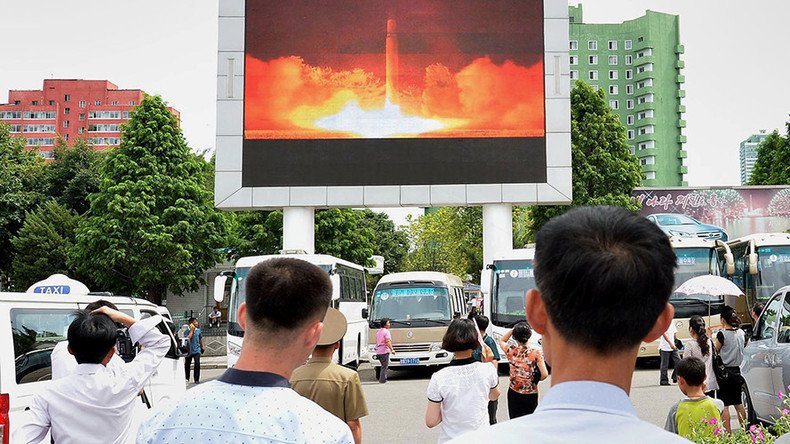 President Donald Trump does not need Congressional authorization to carry out a preemptive strike against North Korea, according to Republican Senator Lindsay Graham.
The Senator from South Carolina said he "violently" disagreed with his colleague Senator Dan Sullivan (R-Alaska), who said that a "pre-emptive war" on the Korean peninsula "would require the authorization of Congress."
"There's nothing in the Constitution limiting the ability to use force to protect America," Graham told radio host Hugh Hewitt on Thursday.
He also said that Trump is "mentally" ready to preemptively strike North Korea "if negotiations fail," based on his conversation with the president.
"I think he's there mentally," Graham said. "He has told me this."
Graham has been a vocal opponent of Trump on many other foreign policy issues, and has sponsored a bill that limited Trump's ability to waive or lift sanctions against Russia without Congressional approval, which the president called an unconstitutional encroachment on his executive powers.
On Tuesday, Trump warned North Korea that it would "face fire and fury like the world has never seen" if Pyongyang continues threatening the US and its ally South Korea.
Since then, North Korea has threatened to bomb the US Pacific territory of Guam, saying that a plan to fire four missiles near Guam would be ready for Kim Jong-un's consideration within days.
North Korean state media issued a statement Wednesday, warning Washington that a "preemptive strike is no longer the monopoly of the US."
On Thursday, Trump doubled down on his earlier comments saying that his "fire and fury" warning to North Korea may not have been "tough enough."
North Korea should "get their act together" or it will "be in trouble like few nations have ever been," Trump said when speaking to reporters at his Bedminster, New Jersey golf resort, where he is spending his vacation.
While Congress is in recess, some lawmakers, including Senator Bernie Sanders, have blasted Trump over his rhetoric on North Korea, saying it could result in millions of people being killed.
"Trump's bombastic rhetoric is not appropriate when we are dealing with the possibility of a nuclear war that could kill millions of people," the senator from Vermont tweeted.
Trump's threats came on the heels of a report in the Washington Post earlier this week, which said that US intelligence analysts have assessed that North Korea has produced a miniaturized nuclear warhead, which could potentially fit in a missile.
On Thursday, it was reported that the US has a plan for a preemptive strike on North Korean missile sites with bombers stationed in Guam, should Donald Trump order it.
An attack by Rockwell B-1 Lancer supersonic heavy bombers from Andersen Air Force Base in the US territory of Guam makes up a major part of the plan, senior acting and retired military officials told NBC News.
The bomber strikes are "the best of a lot of bad options," the outlet cited one senior intelligence official as saying.
You can share this story on social media: