Virginia's Charlottesville braces for protests over Confederate monument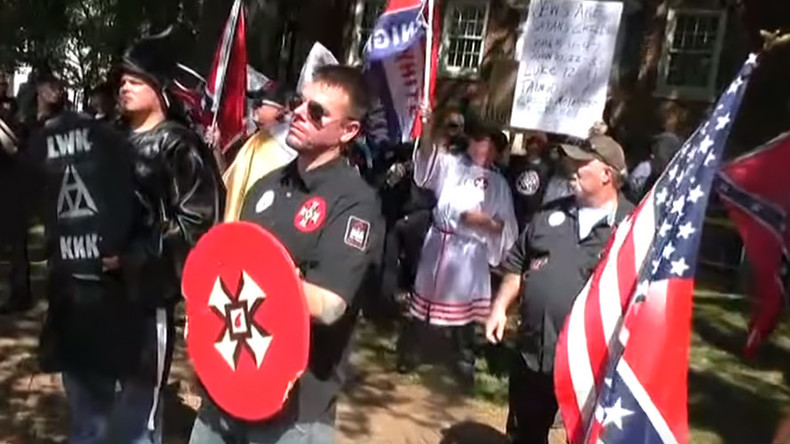 Residents of Charlottesville, Virginia, are readying themselves for another influx of white nationalists ahead of protests against the removal of a Confederate-era statue from a city park.
Organizers say the 'Unite the Right' rally on Saturday aims to "unify the right-wing against a totalitarian Communist crackdown" and to protest "displacement level immigration policies" in the US and Europe.
They also seek to "affirm the right of Southerners and white people to organize for their interests just like any other group is able to do, free of persecution."
Meanwhile, the Southern Poverty Law Center (SPLC), a nonprofit that publishes an annual directory of 'hate groups' in the US, called the rally "the largest hate-gathering of its kind in decades" and said it could be a "seminal point for the alt-Right and extremist hate fringe."
"It's a bold move beyond the anonymity of web sites, message boards, pseudonyms and social media — a move to take the hardcore, racist, white nationalist message to the public square," the SPLC said in a statement.
Charlottesville police are expected to be equipped with riot gear, after groups such as Black Lives Matter and various anti-fascist organizations announced they would run counter-demonstrations involving thousands.
Last month, 23 people were detained when Black Lives Matter supporters and members of a Ku Klux Klan chapter clashed in public. Klan members were among those protesting the intent by Charlottesville authorities to remove the statue of Confederate General Robert E. Lee from a city park.
Social media posts claimed that Airbnb permanently deleted accounts of at least two people hoping to book accommodation in Charlottesville for the protest, citing violation of its terms of service.
Looks like Airbnb is permanently deactivating the account of anyone booking a room in Charlottesville if they think it's for the rally. Gay! pic.twitter.com/O1NTzwWpuu

— Illegal Aryan (@Illegal_Aryan) August 6, 2017
The company has a strict non-discrimination policy which forbids hosts from discriminating against guests on the basis of "race, colour, ethnicity, national origin, religion, sexual orientation, gender identity, or marital status."
Airbnb said in a statement to Gizmodo that it will remove users who don't comply with the company's "Community Commitment," or nondiscrimination clause which come to their attention through background checks or from community input.
READ MORE: Police pepper spray, arrest activists as KKK rally meets rival protest in Charlottesville (VIDEOS)
You can share this story on social media: