California districts sue US govt for $1.4bn over water contamination from military base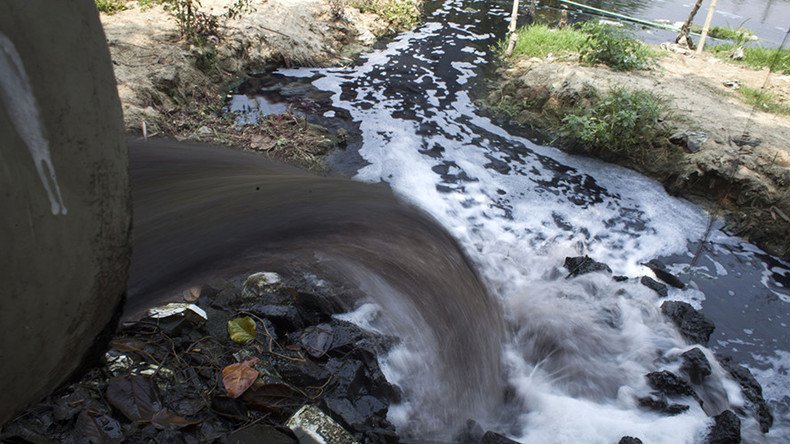 Two water districts in Sacramento, California are suing the US government for nearly one and a half billion dollars for groundwater cleanup. Plaintiffs claim heavy metals used by aircraft maintenance crews at the old McClellan Air Force Base have contaminated over 300 sites.
The lawsuits named the US Air Force and 10 major firms involved in supplying chromium products and chemicals to the base, and was filed by the Sacramento Suburban Water District and the Rio Linda Elverta Community Water District, according to the Sacramento Bee.
At contention is whether the cancer-causing chemical hexavalent chromium, or chromium 6, came from the base, which was designated a federal Superfund site in 1987 for 326 contaminated sites identified for cleanup.
"[T]hey knew or should have known that this harmful compound would reach groundwater, pollute drinking supplies, render drinking water unusuable and unsafe, and threaten the public health and welfare," stated the complaint, which claims an underground storage tank "likely held" the chemical.
The lawsuits demands more than $1.4 billion to clean up the polluted wells, install treatment equipment and replace wells that have been decommissioned for being polluted with chromium 6.
"Sacramento Suburban seeks to recover the substantial costs necessary to protect the public and restore its damaged drinking water supply," the water district's lawsuit, filed in federal court in Sacramento says, as part of its claim seeking $1.1 billion in damages.
Rio Linda Elverta's claim seeks more than $289 million in damages.
"Chrome 6 is a highly toxic compound and it shouldn't be in the water," Victor Sher, a San Francisco environmental attorney representing the plaintiffs, said Tuesday.
"Water districts are constantly balancing risks against cost," he said, adding, "They're committed to delivering water that is as free as possible of contaminants, but doing so is expensive."
Plaintiffs argued that as far back as 1984, McClellan had burn and burial pits, trenches and unlined ponds and ditches contaminated with chemicals.
"[C]ontaminated with plating wastes, solvents, acids, waste oils, paint thinners, strippers and sludges and other hazardous compounds," the lawsuits stated.
Plaintiffs argue that the chemicals have been found in groundwater under the base as high as 840 parts per billion, six times higher than levels that decrease away from the air base. The state set a maximum concentration for chromium 6 as 10 parts per billion in 2014.
The Air Force denied Rio Linda Elverta's claim in a May 9 letter before the district sued in federal court on June 30.
The Air Force had consistently denied responsibility for polluting the groundwater around the base, which operated from 1936 through 2001, before being converted to a business park.
In addition to the Air Force, the water district lawsuits name 10 firms they say were associated with providing chemicals to the base: Elementis Chromium Inc., Occidental Chemical Corp., Honeywell Inc., BASF Corp., PPG Inc., E.I. Du Pont De Nemours and Co., Luxfer Holdings PLC, Sigma-Aldrich Corp. and Dow Chemical Co.
Officials with Sacramento Suburban, which serves 175,000 customers just east of the old base, and Rio Linda Elverta, which serves about 15,000 customers to the west of the base, say the water they are currently providing is safe.
A 2016 Harvard study of some 36,000 EPA water samples taken from 2013 to 2015 at industrial sites, military fire training locations, airports and wastewater treatments plants contained levels of perfluoroalkyl substances (PFASs), or perfluorinated chemicals, that go beyond what is considered safe by the federal government.
Researchers determined that drinking water for 6 million in the US is at or beyond the EPA safety threshold for PFAS levels.
Xindi Hu, the study's lead author, warned that "the actual number of people exposed may be even higher than our study found, because government data for levels of these compounds in drinking water is lacking for almost a third of the U.S. population—about 100 million people."
You can share this story on social media: