US Air Force won't reimburse Colorado county for water pollution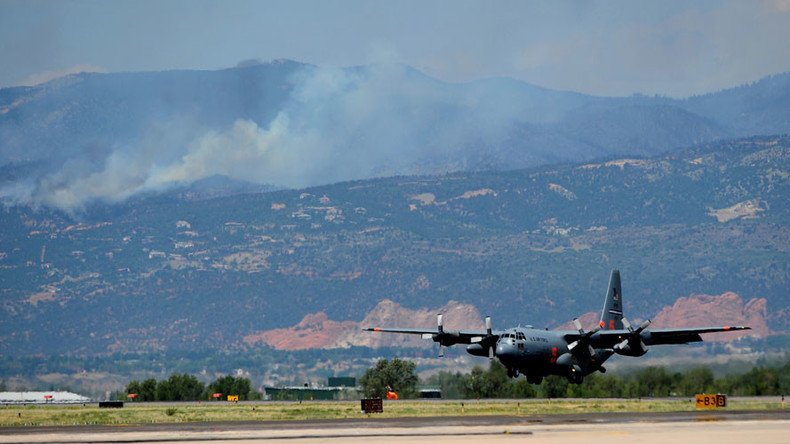 Colorado communities whose drinking water supply was contaminated by chemicals used at the Peterson Air Force Base are frustrated as the military is refusing to reimburse their cleanup costs and promising aid only after years of environmental studies.
Firefighting foam containing perfluorinated compounds (PFCs) has seeped into the Widefield Aquifer over the decades, making well water in southern El Paso County unsafe to drink, according to a recent US Air Force study.
The chemicals were detected at 88,000 parts per trillion near the fire training area at Peterson AFB, which is 1,257 times higher than the advisory level set by the Environmental Protection Agency (EPA).
So far, the water districts of Security, Widefield and the city of Fountain have spent $6 million dealing with the contamination, and the costs are expected to rise to $12.7 million by the end of 2018, according to the Colorado Springs Gazette.
"We really need financial help," said Roy Heald, manager of the Security Water and Sanitation Districts. "We need to get going on those things before the 2020s."
However, the USAF said it does not have the authority to reimburse communities for costs of dealing with environmental contamination.
"We don't back pay – we cannot reimburse," said Cornell Long, a chemist with the Air Force Civil Engineer Center, according to AP.
The inspection report released last week cost $400,000 and local officials said it was limited in scope. The Air Force is funding another study this fall to better understand how the groundwater moves under the base, and plans another study in the spring of 2019 to explore options for fixing the contamination. Funding for those studies is yet to be approved by Congress.
While "interim measures" might come sooner, the Air Force does not expect to implement remediation plans until the 2020s, the Civil Engineer Center leaders said last week.
Most of the $4.3 million the Air Force has pledged in aid has not been delivered, according to the Gazette. Of that amount, only $1.7 million will go to pay the utility costs, while much of the rest will be spent on bottled water and filters.
Meanwhile, local residents are facing higher prices for drinking water. Fountain is planning to raise water rates by 5.3 percent. Widefield is planning to build a water treatment plant for the affected wells, at a cost of up to $12 million. Security is currently paying $1 million a year to Colorado Springs Utilities for clean water, and is considering a rate increase and a treatment plan.
By the time the Air Force finishes its studies, the local districts will have borne most of the costs, said El Paso County Commissioner Mark Waller, a former Air Force officer.
"That's not an excuse, I think, that should be used in order to end up not paying for these things," he told the Gazette.
State Senator Bob Gardner (R-Colorado Springs) says El Paso County has a "large reservoir of patience," and is very supportive of the military, but that the Air Force risks that well running dry if the bills keep stacking up.
"That needs to be compensated," he said. "And the military needs to go ahead and step up and not study and study and study."
Communities around the Pease AFB in New Hampshire and Wurtsmith AFB in Michigan – both closed years ago – are also dealing with PFC pollution. Residents of Oscoda, Michigan who rely on private water wells were told to seek an alternative water supply, while a "do not eat" advisory is in effect for fish caught near the base.
Earlier this year, the federal Agency for Toxic Substances and Disease Registry (ATSDR) acknowledged "a national-scale problem" related to PFCs, but "we don't have the authority and we don't have the resources" to do much about it, director Pat Breysse said.
You can share this story on social media: