Tons of molten glass spill like volcano into Ohio plant after leak
Published time: 8 Aug, 2017 18:40
Edited time: 9 Aug, 2017 12:11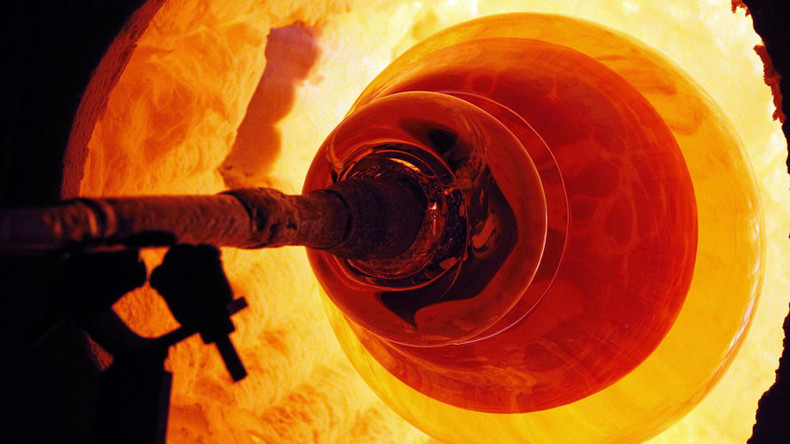 300 tons of super-heated liquid glass erupted out of a small hole in a tank that grew bigger by the second. Firefighters fought to cool the volcano-like glass so that it would not melt the plant's structural beams, causing it to collapse.
The plant survived, however, and the molten glass didn't injure any workers or start a fire, South Zanesville fire chief Russell Taylor said.
He described the tank break as being "basically like a volcano."
Groups of firefighters had to rotate and leave the building every 15 minutes because of the heat.
The hole in the tank was small but grew to 10 feet in just 20 seconds, USA Today cited Taylor as saying.
Some equipment, as well as the tank itself, was destroyed as a result of the leak, according to the fire chief.
The Owens-Illinois glass plant, located about 50 miles east of Columbus, Ohio, produces glass containers.
The incident happened hours after the fire chief met with engineers at the glass plant Monday to talk about emergency preparedness, USA Today reported.
Firefighters were prepared because the area's fire officials had taken the precaution of talking with the plant in recent weeks about how to handle a potential rupture, AP cited Taylor as saying.
Similar accidents have happened at commercial glass plants before.
In July 2014, at the Anchor Hocking plant in Ohio, a tank oozed molten glass. The same plant had had a rupture in a different tank some months earlier, which caused a fire.