Bay Area Transit police arrest man over two train assaults
Published time: 7 Aug, 2017 21:29
Edited time: 8 Aug, 2017 12:13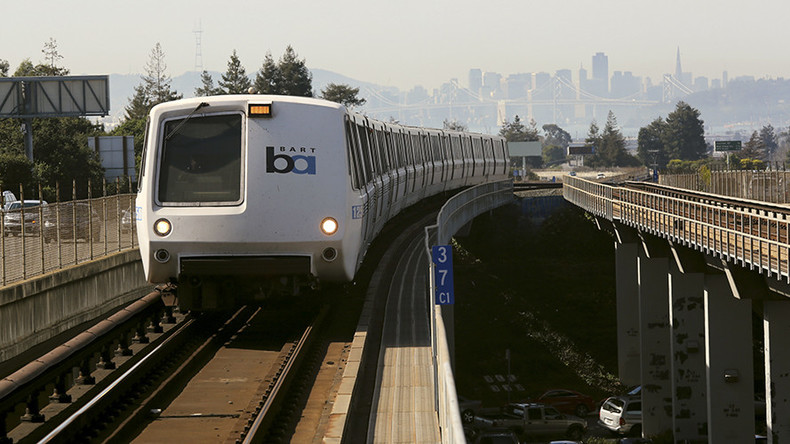 A man suspected of assaulting passengers on two occasions has been tracked down and arrested by Bay Area Rapid Transit (BART) police, after they reached out to the public. BART had previously refused to publish surveillance images, citing 'racial bias.'
BART police arrested an African-American man on Monday, less than five hours after appealing to the public for help in identifying a suspect involved in the attacks and releasing pictures taken by the system's surveillance cameras, according to KTVU.
Police said the first attacked occurred on August 3 in San Leandro, when the suspect hit a male victim in the head with an unknown metal object. The suspect also punched and kicked the victim, before fleeing the train and running out of the station. Police were unable to track him down.
Witnesses and the victim said the attack was unprovoked, according to police. The victim was treated for a cut to the head and hospitalized with non-life threatening injuries. The weapon was later identified as bolt cutters.
The second attack occurred on August 5, on an East Bay train bound for San Francisco. The same suspect boarded the train, approached a man and punched him in the face twice before fleeing the scene. The victim, who said he did not know the suspect, received medical treatment for non-life threatening injuries.
Cameras on both trains captured images of the suspect, which BART decided to release to the public. The decision came less than a month after the transit authority announced it would no longer release surveillance footage of crime incidents, arguing that doing so would "create a racial bias" and accusing the media of exploiting transit crime for ratings.
In a press release on its policy decision, BART said that local media coverage led "to sweeping generalizations in media reports and a high level of racially insensitive commentary" on social media. BART said it planned to share data with the website CrimeMapping.com instead.
The decision was made after a series of attacks on passengers by groups of teenagers. On June 30, a woman had her phone snatched away by one of "about a dozen teenagers" who got off the train in Oakland. A group of four teenagers stole the cell phone of another woman on June 28. On April 22, some 40-60 teenagers robbed seven passengers and beat up two.
BART refused to release the surveillance footage from the three incidents, saying that since the assailants were minors, their privacy had to be protected under California law on juvenile police records.
BART assistant general manager Kerry Hamill said in the announcement that in the day following the June 30 phone snatching incident, there were over 118 assaults and 33 robberies in the area.
"All of these incidents were ignored by local media," she wrote, adding, "They know that video of these events will drive clicks to their websites and viewers to their programs because people are motivated by fear."
In justifying the authority's position, Hamill cited the 2009 death of Oscar Grant, a 22-year-old African-American shot by a BART police officer who was responding to a brawl that broke out at Fruitvale station on New Year's Day.