CNN commentator quits to join 'real' news on pro-Trump TV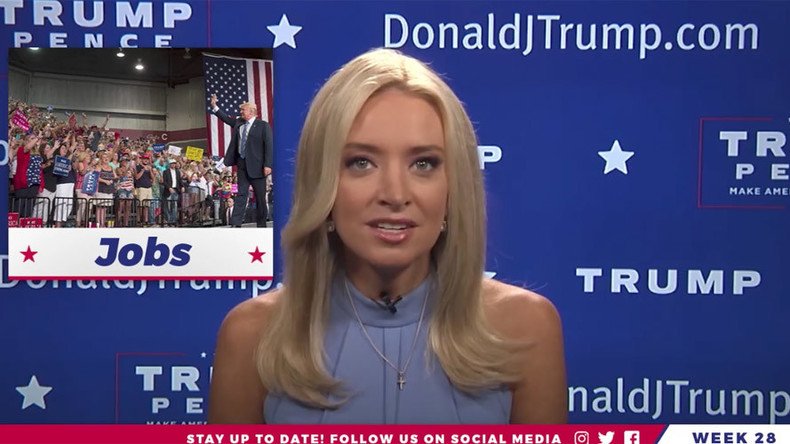 A CNN commentator has gone from working for what Donald Trump describes as "fake news" to appearing on the president's "real news" segment broadcast from inside Trump Tower.
Conservative commentator Kayleigh McEnany appeared on Trump's Facebook page to give a news segment on Sunday, one day after leaving CNN, where she was a regular defender of the president.
While I have enjoyed my time at CNN, I will be moving to a new role. Stay tuned next week!

— Kayleigh McEnany (@kayleighmcenany) August 5, 2017
She's reporting from Trump Tower, his name is advertised behind her & she states it's "real news." This is 100% propaganda of his making. https://t.co/eyyVs9pxRM

— Amber J. (@AJ_Ski_Bum) August 6, 2017
"Thank you for joining us as we provide the news of the week from Trump Tower here in New York," she said, before reading the "News of the Week" which included unemployment and jobs statistics.
"President Trump has clearly steered the economy back in the right direction," McEnany said after reporting Trump has created more than 1 million jobs, a claim that is disputed.
McEnany appears to have replaced Trump's daughter-in-law, Lara Trump, who appeared in a similar news segment on Trump's page last week. Lara Trump said she was reporting the "real news" to the US.
CNN reports McEnany asked the network to be let out of her contract. It isn't clear who is funding Trump's "real news" segments.
Who is paying for this propaganda?

— Kristie Stump (@CarrStump1) August 6, 2017
--average job growth in the 9 months since your dad's election: 179K

--average job growth in the 9 months before your dad's election: 199K https://t.co/vkdMoIoxJX

— John Harwood (@JohnJHarwood) August 6, 2017
During McEnany's report, the former CNN commentator praised Trump's new RAISE Act that aims to cut legal immigration by 50 percent over 10 years. According to McEnany, RAISE will increase wages and save taxpayers money.
"I'm Kayleigh McEnany, and that is the real news," she concluded.
Of course she's on Trump State TV- she was always an extremist propagandist.

— Suzanne Trimel (@STrimel) August 6, 2017
Propaganda suits you Kayleigh. Nobody there to dispute facts or point out your weird devotion to Trump. You're on the wrong side of history.

— Miss NyetTrump 📎❄️ (@MissNyetTrump) August 7, 2017
McEnany's new role has invited criticism, as social media users accused her of creating propaganda and wasting her Harvard law degree.
Others congratulated McEnany for her decision.
Donald Trump has repeatedly accused her former employer, CNN, of being "fake news."
READ MORE: Trump slams BuzzFeed as 'failing pile of garbage,' rejects CNN question over 'fake' report
During a January press conference, the then-president-elect refused to let a CNN reporter ask a question after it and BuzzFeed published allegations that Russia was blackmailing Trump with compromising sexual information. Since then, the president has repeatedly criticized CNN and other media outlets such as the New York Times. CNN has been accused of pushing negative Trump-Russia stories for "ratings."
READ MORE:CNN producer admits Russia narrative is 'bullsh*t,' just for 'ratings' (VIDEO)
You can share this story on social media: