Migrant deaths spike on US-Mexico border – UN
Published time: 4 Aug, 2017 21:15
Edited time: 5 Aug, 2017 15:58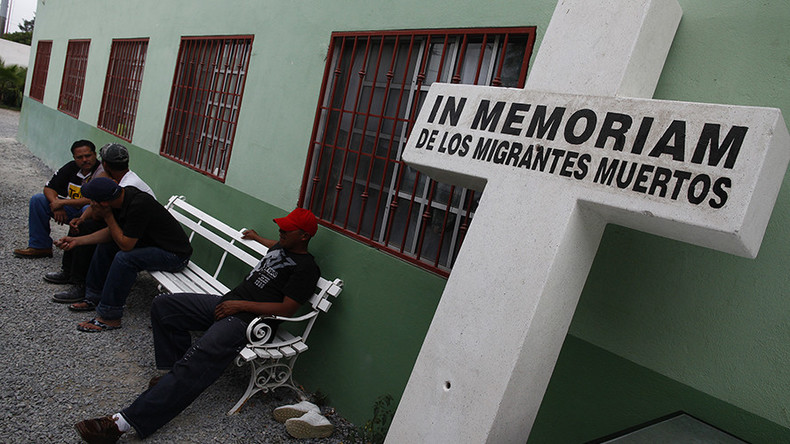 The UN's migration agency has tallied a 17-percent increase in deaths among migrants on the US-Mexico border this year. The Geneva-based agency said it couldn't fully explain the higher toll.
The International Organization of Migration (IOM) has counted 232 migrant deaths on the route through the end of July – up from 204 a year earlier.
It comes even though US Border Patrol apprehensions of migrants have fallen nearly by half this year, to just over 140,000, AP reported.
The international body cited factors such as the hot weather and swelling Rio Grande waters, but said the higher toll couldn't be fully explained.
Some 50 bodies were found in July alone, according to the IOM.
On July 24, US authorities found 8 people dead from heat exhaustion in a truck in San Antonio, Texas, where they were smuggled from Mexico. Two others from the truck died in the hospital shortly after they were discovered.
The tractor-trailer was packed with other migrants who said they took turns to breathe from a hole in the semi. One man who survived the journey told federal authorities they banged on the wall to get the driver's attention but he kept going.
The driver was charged with knowingly transporting undocumented immigrants. He said he had no idea there were people inside the tractor-trailer.
The US Justice Department called the tragedy a "smuggling venture [that has] gone horribly wrong."
"The South Texas heat is punishing this time of year. These people were helpless in the hands of their transporters. Imagine their suffering, trapped in a stifling trailer in 100-plus degree heat," said US Attorney Richard L. Durbin Jr.
The incident brought national attention to human smuggling at the US-Mexico border.
Many among the 232 migrants en route to the United States died this year from dehydration, heatstroke or hypothermia, trying to evade Border Patrol checkpoints by choosing perilous routes.
The Trump administration has promised to crack down on illegal immigration and build a wall on the border with Mexico.
Currently there is a barrier in some areas along the border. Last week, the US House of Representatives voted to spend $1.6 billion on building new and fortifying existing fencing on the US border with Mexico including 28 miles (45 kilometers) of levee wall in the Rio Grande Valley in Texas.