'Smuggling venture gone horribly wrong': Illegal migrants found dead of heat exhaustion in trailer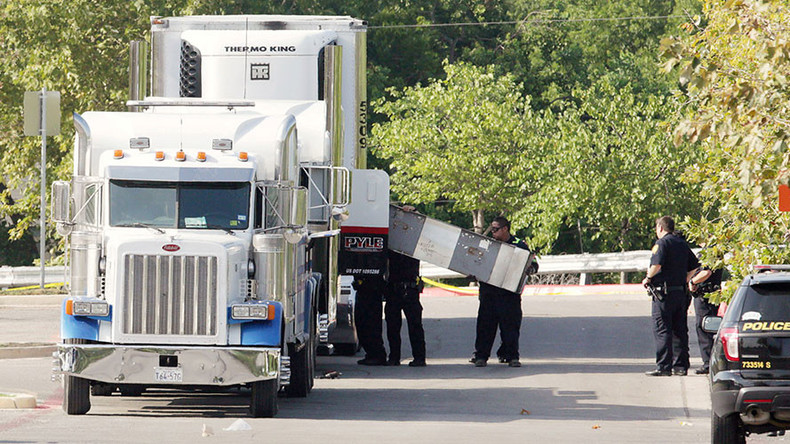 The US Department of Homeland Security has taken over the investigation of an immigrant smuggling case, where at least 8 people were found dead from heat exhaustion in a locked up trailer in San Antonio, Texas.
At least nine Latin American illegal immigrants died after being left unintended inside a tractor-trailer in the parking lot of a San Antonio Walmart. The abandoned vehicle has been parked there at least since Saturday evening. The truck was noticed by one of the store employees after someone from the vehicle was "asking for water."
When San Antonio Police arrived at the scene they found eight people dead. Another person died in hospital, after being rushed along with sixteen others for medical treatment. Thirteen migrants are being treated for non-life-threatening injuries.
While most are believed to be in their 20s or 30s, at least two migrants appeared to be of school going age.
The victims "were very hot to the touch. So these people were in this trailer without any signs of any type of water," San Antonio Fire Chief Charles Hood said, according to AP.
The US Justice Department has called the tragedy a "smuggling venture [that has] gone horribly wrong."
"All were victims of ruthless human smugglers indifferent to the well-being of their fragile cargo," US Attorney Richard L. Durbin Jr. said in a statement. "The South Texas heat is punishing this time of year. These people were helpless in the hands of their transporters. Imagine their suffering, trapped in a stifling trailer in 100-plus degree heat."
READ MORE: Border Patrol arrests 4 undocumented immigrants at Arizona humanitarian medical camp
The Justice Department said the 60-year-old driver, identified as James Mathew Bradley, from Clearwater, Florida, is in federal custody and will be charged next week.
San Antonio Police and the US Homeland Security Unit will now focus "to determine the origin of this horrific tragedy," Police Chief William McManus said, according to the LA Times.