Trump says US 'losing' war in Afghanistan, wants top brass reshuffle – reports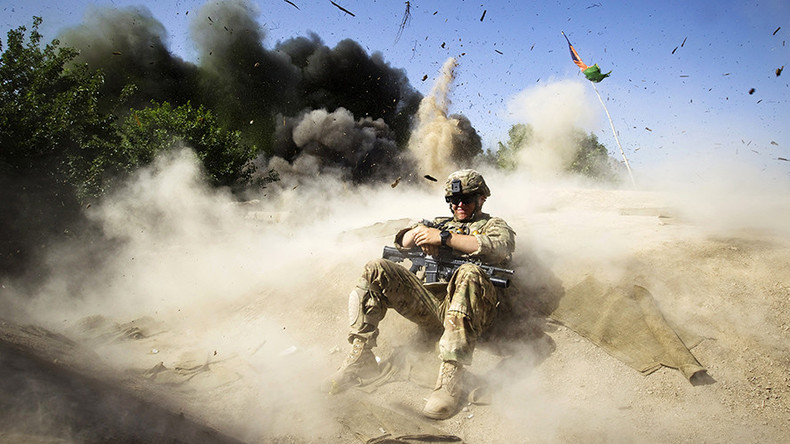 Seeking a more aggressive stance in Afghanistan, President Donald Trump reportedly vowed a radical reshuffle of his national security team, including firing a general who has been in charge of US troops in the war-torn country for over 16 years.
Details have emerged of a tense meeting with top military officials in mid-July, when Trump repeatedly voiced frustration over the current strategy in Afghanistan, where the US has been bogged down in war for 16 years. The US must consider new, more assertive ways of winning the war, Trump maintained, according to an NBC report.
One of the options he floated at the meeting in mid-July was the dismissal of Army General John Nicholson, commander of US troops in Afghanistan. Chairman of the Joint Chiefs of Staff General Joseph Dunford would replace him, NBC reported, citing senior administration officials who requested anonymity.
Trump reported lashed out at military staff during the fractious meeting, including Defense Secretary James Mattis, accusing them of losing ground in Afghanistan despite having enough time to push for a decisive win. "We aren't winning," the president reportedly said. "We are losing."
Trump is said to have complained that the options for Afghanistan presented by his military strategists – including a complete withdrawal – were far away from the reality on the ground. Backing up his claim while speaking to the national security team, the property mogul-turned-president compared the current Afghan policy review to the renovation of the 21 Club – a posh Manhattan restaurant he has frequently visited.
The spot closed for a year and hired a costly consultant to elaborate a renovation plan, but the consultant's only suggestion was to enlarge the kitchen. The owner might have simply talked to his waiters instead of facing a year of lost business because of the advice, Trump argued.
"The clear message [from Trump] if you heard the story was: high-priced consultants or high-priced anybody, expensive supposedly-big-brained people, but who are physically far from the source of the problem, often give you much worse advice than the supposedly low-ranking guys who are right there," an official told the news outlet.
Trump failed to make any decision on an Afghan strategy following the meeting, which left national security advisers and military leaders bewildered. Two Pentagon officials close to Mattis told NBC the defense secretary returned from the White House on that day "visibly upset."
Consequently, military leaders seemed reluctant to back Trump's proposal to fire General Nicholson. Chairman of the Joint Chiefs of Staff Dunford even offered to arrange a personal meeting for Trump with Nicholson. Speaking to MSNBC on Wednesday, National Security Advisor H.R. McMaster said he "can't imagine a more capable commander on any mission."
Top Republicans also fired back at Trump's suggestions. "Every soldier over there is an insurance policy against our homeland being attacked," leading GOP hawk Senator Lindsey Graham said on Thursday, as cited by AP.
"My biggest fear is that if you don't listen to the generals and you try to make this up as you go like Obama and Biden did, you're going to wind up losing Afghanistan like you did Iraq and the consequences to America are worse."
Trump has long been skeptical of the lingering deployment in Afghanistan, insisting the US should demand a share of Afghanistan's mineral resources in exchange for its assistance, Reuters reported on Thursday.
Other outside proposals were also being considered by the administration. Erik Prince, a founder of the private military company Blackwater, and Stephen Feinberg, owner of the global security contractor DynCorp International, have pitched their visions on Afghanistan to the White House, according to the New York Times.
In a stunning op-ed for the Wall Street Journal, Prince, a former Navy SEAL and a notorious mercenary kingpin, has also urged Trump to recall British colonial practices and appoint "an American viceroy" to Afghanistan.
The viceroy would consolidate power in the war-ravaged country, while mercenary units – deploying instead of conventional US troops – would help with "pounding the Taliban and other terrorists so hard that they plead for negotiation." Prince also argued that the troops "should not have to ask a lawyer sitting in air conditioning 500 miles away for permission to drop a bomb."