Wings for hire? Ex-Blackwater CEO Erik Prince reportedly offering private air force for Afghan War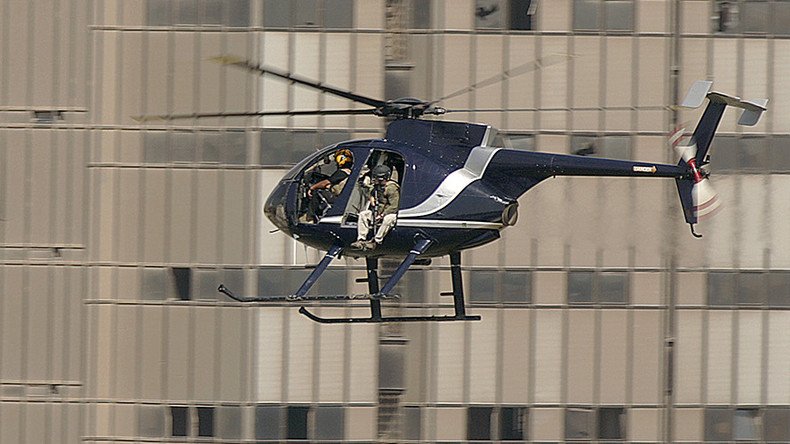 Former Blackwater founder Erik Prince, who earlier urged Donald Trump to appoint a US "viceroy" to win the Afghan war, has reportedly pitched up a "business proposal" to Kabul, offering a fully-fledged private air force to back the local army's operations.
Prince, the founder and former CEO of private military company Blackwater (now rebranded Academi), has floated a business proposal offering a privately-manned "turn-key composite air wing" to the Afghan government, whose troops steadily lose ground to the Taliban, the Military Times reported on Thursday.
Prince's plan, cited by the newspaper, was reportedly submitted to the Afghans back in March. It includes providing "high speed response" as well as close-air support for Afghanistan's army fighting the Islamists. The private air force's fixed-wing planes, attack helicopters and drones would be flown by hired pilots, but "weapons release decisions will still be made by Afghans."
According to Prince's plan, "the entire country can be responded to in under 1 hour." To ensure rapid response capabilities, the private air force would even use an iPhone application called Safe Strike. The app is said to allow forward air controllers on the ground to accurately request "precision airstrikes or indirect fire," according to the proposal.
The proposal itself involved a Dubai-registered private military contractor called Lancaster6, led by Christiaan Durrant. A former Royal Australian Air Force F-18 pilot and Qantas flight officer, Durrant is believed to be close to Prince, as he was in charge of operations at Frontier Services Group (FSG), the company Prince founded in 2014.
Lancaster6 is already operating some of its aircraft fleet in Afghanistan transporting troops as well as providing air drop support and cargo services, according to the Military Times.
It is unclear whether Prince plays any role in Lancaster6, but an Afghan military official told the newspaper that it was he – not Durrant – who personally presented the private air force proposal. According to the plan, the Lancaster6 private air wing will operate in Afghanistan until the local military gain ground and begin to retake territories previously lost to the Taliban.
It is not the first time the notorious mercenary kingpin has attempted to pitch its vision of winning the Afghan War to the Trump administration. The New York Times reported in July that Prince had asked Steven Bannon, President Donald Trump's chief strategist, to try to persuade the Pentagon to rely on private contractors rather than the US troops in Afghanistan.
Defense Secretary James Mattis "listened politely but declined" to include Prince's ideas to the ongoing revision of Washington's Afghanistan strategy, the newspaper said.
Earlier in May, Prince also wrote a hawkish op-ed for the Wall Street Journal, urging White House to take a more aggressive stance on bringing things in Afghanistan under control.
Trump, Prince asserted, must consolidate power in the war-torn country appointing "an American viceroy who would lead all US government and coalition efforts – including command, budget, policy, promotion and contracting."
Recalling the British East India company, the Blackwater founder vowed establishing "private military units" that would ensure "training, discipline, loyalty and material readiness of the men they fought alongside for years, not for a one-time eight-month deployment."
American troops fighting in Afghanistan must also feel free to "make better decisions faster" as they "should not have to ask a lawyer sitting in air conditioning 500 miles (800km) away for permission to drop a bomb," Prince said.
The US should begin "pounding the Taliban and other terrorists so hard that they plead for negotiation," deprive them of economic resources and infrastructure, and make them feel "real pressure," he said, claiming there will be no other way of coping with the "expensive disaster" of Afghanistan.
The firm secured a contracting bonanza that ensued after the 2003 US invasion of Iraq. Operating as part of the US occupational authorities, Blackwater members gained notoriety due to misbehavior, security flaws and discipline problems.
A former Navy SEAL, Prince sold off his stake at Blackwater in 2010 following the year-long controversy over the company's operations in Iraq. Four years later, in 2014, he founded the FSG in Hong Kong, allegedly receiving help from Chinese intelligence to create a Bank of China account for his overseas activities, according to the Intercept.
You can share this story on social media: