W. Virginia governor switches parties, Republicans now control majority of states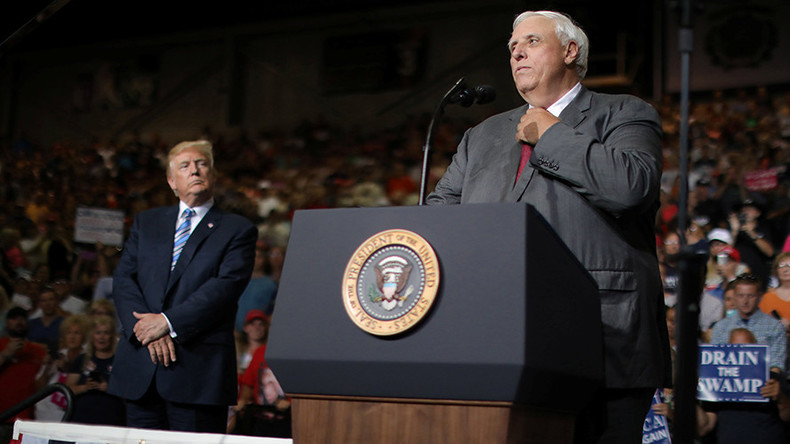 West Virginia Governor Jim Justice is now a Republican, he officially announced at a rally for President Donald Trump. The ex-Democrat has just tipped the scales to give the GOP control of 26 state legislatures and governorships.
Justice said Thursday night that neither he nor Trump ran as politicians, but as people just wanting to "get something done."
Justice's announcement was anticipated during Trump's "Make America Great Again" rally Thursday evening in Huntington, West Virginia. The president had teased White House reporters Thursday morning to expect "a very big announcement."
"Have we not heard enough about the Russians?" Justice told the crowd to raucous applause.
Justice won the office as a Democrat in November 2016, despite the state being reliably red. Trump defeated Hillary Clinton there overwhelmingly, 68.5 to 26.4 percent.
The party turn makes Justice the 34th Republican governor in the US. West Virginia became the 26th state where the GOP has full control of the legislative and executive branch, according to the conservative group Americans for Tax Reform.
Democrats control both the legislative and executive branches in six states, less than a quarter of the states held by the GOP.
The tax group estimates the total population of GOP-controlled states to be 164,139,104, while the six Democratic-controlled states have a combined population of 50,190,213.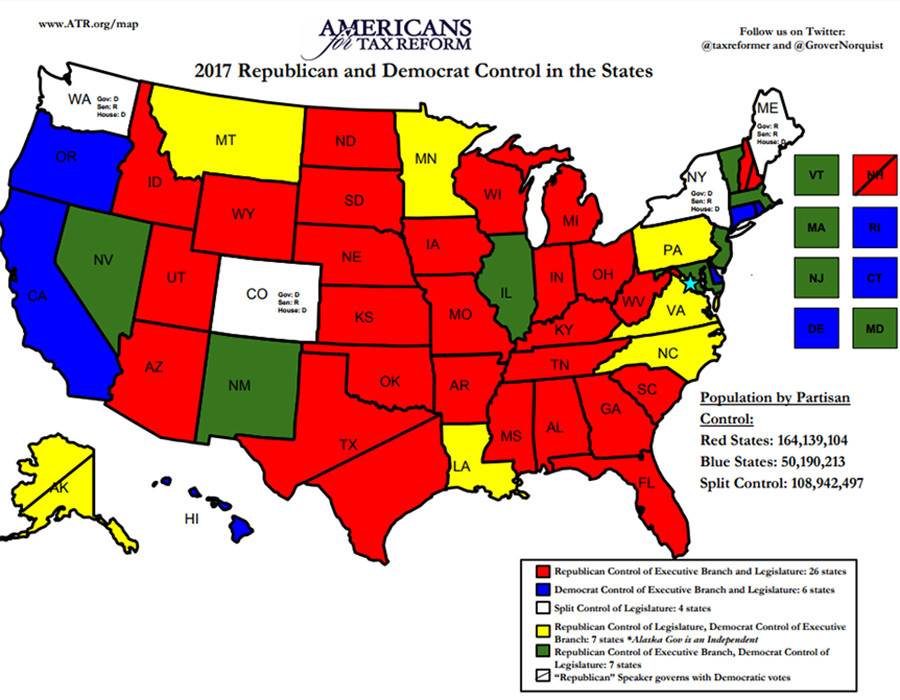 Justice may be a newly registered Republican, but it is unclear how much his politics will truly change. Before entering politics, the billionaire coal and real estate tycoon registered with both the GOP and Democrats, as well as registering with no party affiliation, all while donating to elected officials of both parties, the New York Times reported.
Justice campaigned as a conservative Democrat last year, declining to endorse Clinton.
US Senator Joe Manchin of West Virginia may end up being the most directly impacted by the party change. The moderate Democrat, who also used to be the state's governor, has voted in line with Trump's position 54.2 percent of the time, according to FiveThirtyEight. Up for reelection in 2018, Manchin may struggle without a Democratic governor's support.
Justice shares with Trump an inclination for theatrics. In April, the governor brought three covered silver platters into the state capitol. He lifted the lids one by one, first revealing a "nothing burger" consisting simply of an empty bun, then a mayonnaise sandwich, and finally, a pile of cow dung covering pages of a Republican-backed budget proposal. Justice called the budget "nothing more than a bunch of political bull you-know-what."
The West Virginia State Tax Department has four liens filed against Tams Management Inc., one of Justice's companies, due to almost $1 million in unpaid taxes, interest and penalties, the New York Times reported.
You can share this story on social media: