Trump slammed Turnbull phone call as 'ridiculous', said Putin was 'pleasant' – leaked transcript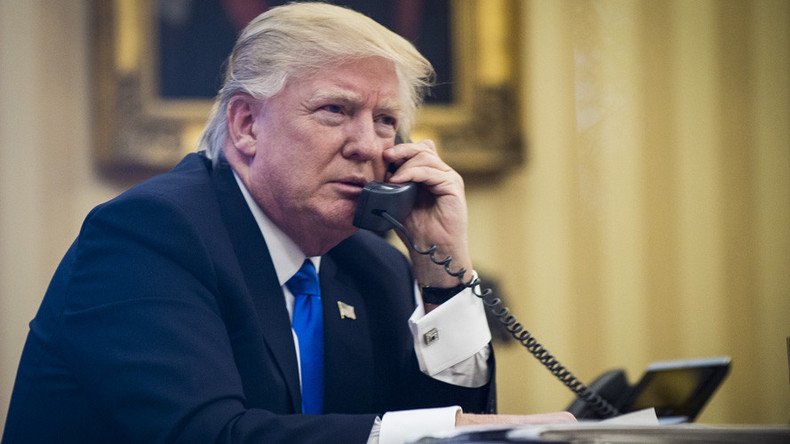 Donald Trump didn't mince his words during a call with Australian PM Malcolm Turnbull earlier this year, telling the him that their conversation was "ridiculous" while comparing it to the "pleasant" talk he had with Vladimir Putin, according to a leaked transcript.
Details of the transcript, obtained by the Washington Post, include information on the call between the two leaders on January 28.
While speaking to Turnbull about a deal for the US to take in refugees from Australia – which was agreed by the Obama administration – Trump had no problem expressing his true feelings on the matter.
"I have had it," Trump told Turnbull. "I have been making these calls all day, and this is the most unpleasant call all day."
He then went on to make clear that "Putin was a pleasant call."
"This is ridiculous," Trump added.
"I am the world's greatest person that does not want to let people into the country. And now I am agreeing to take 2,000 people," Trump said.
The deal to take in 1,250 refugees from Australia's detention centers on Papua New Guinea's Manus Island and the island nation of Nauru was agreed by former President Barack Obama on humanitarian grounds, following intervention from the United Nations. In return, Australia agreed to resettle refugees from El Salvador, Guatemala, and Honduras.
Trump's feelings on the agreement became even more clear later on in the call.
"I hate taking these people," the US president said. "I guarantee you they are bad. That is why they are in prison right now. They are not going to be wonderful people who go on to work for the local milk people."
Turnbull responded by saying that the detainees were economic refugees and had not been accused of any crimes. He explained that they were being denied entry into Australia due to a policy aimed at discouraging human smuggling.
The Australian prime minister then took a firmer tone, telling Trump: "There is nothing more important in business or politics than a deal is a deal. "You can certainly say that it was not a deal that you would have done, but you are going to stick with it."
That comment appeared to anger Trump even more, prompting the US president to say the refugees could "become the Boston bomber in five years."
"I think it is a horrible deal, a disgusting deal that I would have never made," Trump said. "As far as I am concerned, that is enough, Malcolm. I have had it."
Turnbull then tried to steer the conversation in a different direction, attempting to bring up the topic of Syria.
Trump, however refused. The 24-minute call ended with Turnbull thanking Trump for his commitment.
"You can count on me," the Australian prime minister said. "I will be there again and again."
Trump responded by saying "I hope so" before thanking Turnbull and hanging up.
Although Trump called the refugee deal "dumb" in a February tweet, Vice President Mike Pence confirmed in April that the US would be honoring the commitment to Australia "out of respect to this enormously important alliance."
Do you believe it? The Obama Administration agreed to take thousands of illegal immigrants from Australia. Why? I will study this dumb deal!

— Donald J. Trump (@realDonaldTrump) February 2, 2017
The transcript of the call was based on records kept by White House notetakers who monitored Trump's calls, according to The Washington Post. Such records, referred to as a "memorandum of conversation" are often circulated among White House staff and policymakers.
The document contains notes which indicate that it was reviewed and classified by retired Lt. Gen. Keith Kellogg Jr., who serves as chief of staff on the National Security Council.
The White House refused to comment on the transcript to The Washington Post, but an official told the newspaper on condition of anonymity that "the president is a tough negotiator who is always looking to make the best possible deals for the American people... in every conversation the president has with foreign leaders, he is direct and forceful in his determination to put America and Americans first."
Although reports first emerged in February about Trump referring to his call with Turnbull as the "worst so far," an official White House read-out of the conversation at the time, merely stated that the two leaders had "emphasized the enduring strength and closeness of the US-Australia relationship that is critical for peace, stability, and prosperity in the Asia-Pacific region and globally."
Turnbull, for his part, also refused to shed light on the conversation. "These conversations are conducted candidly, frankly, privately. If you see reports of them, I'm not going to add to them," he said at the time, as quoted by Reuters.
You can share this story on social media: