'The Donald & I are winning': Leak reveals Australian PM's roasting of Trump (AUDIO)
Published time: 15 Jun, 2017 11:46
Edited time: 4 Jul, 2017 07:06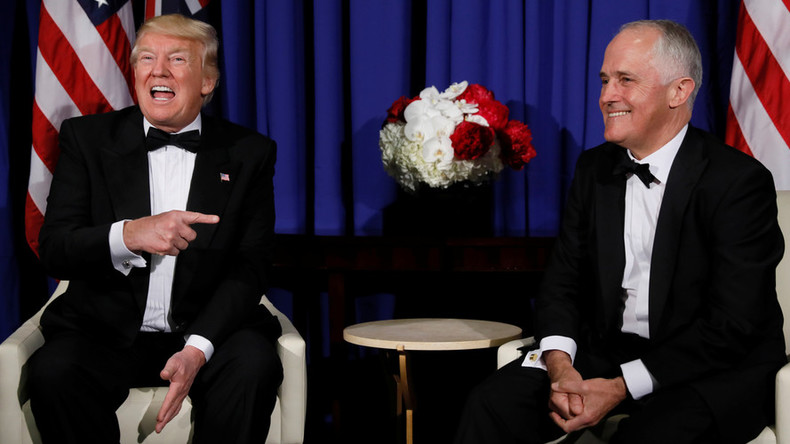 A recording of Australian Prime Minister Malcolm Turnbull roasting US President Donald Trump during an 'off the record' address at a ball in Canberra has been leaked.
The tongue-in-cheek comments, made at Parliament House's annual Mid Winter Ball, were broadcast by Australian TV channel 9 News, despite usual protocol that the prime minister's address is off limits to the press.


Speaking to a packed room, Turnbull recalled his meeting with President Trump in New York last month.

"It was beautiful. It was the most beautiful putting-me-at-ease ever," he said, mimicking Trump.

The two leaders had met to mark the 75th anniversary of the Battle of the Coral Sea, in which US and Australian forces defeated Japanese troops.

Turnbull continued his mocking of Trump, referencing "fake polls" and Russia.

"The Donald and I, we are winning and winning in the polls. We are winning so much. We are winning like we have never won before," he said.

"Not the fake polls. They're the ones we're not winning in. We're winning in the real polls. You know, the online polls. They are so easy to win. I have this Russian guy. Believe me, it's true. It is true."

The satirical speech received laughs from the audience but got something of a mixed reaction online.
Even the Twitter account of hit US TV show 'House of Cards' weighed in on, reminding Turnbull that "there is always a leak."
Turnbull told 3AW radio after the leak emerged that his speech was a "good-humored roast," as reported by 9 News.

"It's a breach of protocol, it's a breach of faith and all those things, but it's light-hearted, affectionate, good-natured. The butt of my jokes was myself. It was fun, we've got to lighten up," he said.

The US embassy said it was not concerned by the prime minister's speech.

"We understand that last night's event is equivalent to our own White House Correspondents' Dinner," an embassy spokesperson said. "We take this with the good humor that was intended."
Trump famously had a heated first call with Turnbull as president regarding a refugee deal, reportedly describing it as "the worst so far." The conversation was said to have only lasted a quarter of an hour, ending with Trump hanging up on Turnbull, according to the Washington Post.

READ MORE: 'Worst so far': Trump 'hangs up' on Australian PM after heated call, report says

White House spokesman Sean Spicer dismissed these reports, however, and was backed up by Turnbull who insisted the conversation was "cordial."
Perhaps Turnbull's skit was simply revenge for a parody account launched in his honor after Spicer mispronounced his name as 'Trumble.'