'Cosmopolitan bias to shocking degree': Trump aide & CNN reporter clash over immigration (VIDEO)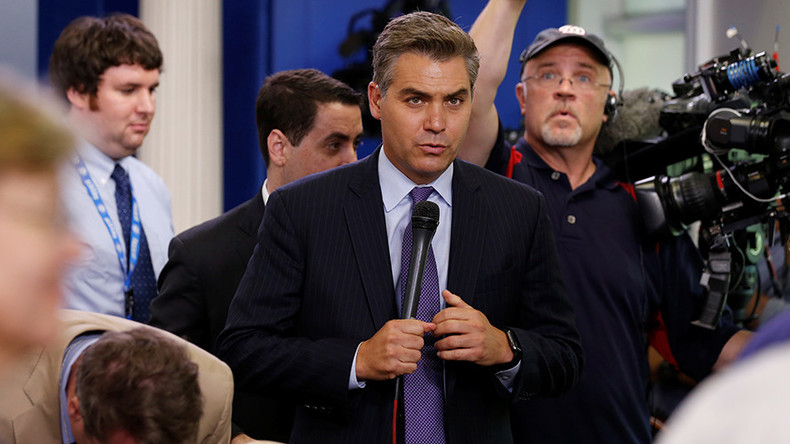 A White House press briefing descended into a tense historical debate in which Donald Trump's presidential adviser Stephen Miller accused a CNN reporter of showing "cosmopolitan bias."
The briefing, which was called to outline Trump's support for the RAISE Act, an immigration reform bill which proposes favoring English-speaking immigrants and those who can "financially support themselves", fell into chaos when Miller became embroiled in a fiery exchange with CNN political correspondent Jim Acosta.
The bizarre flashpoint kicked off when Acosta questioned whether the tightening of immigration control went against the tradition of US immigration.
Citing a historic poem on the Statue of Liberty, Acosta suggested that one of the best known symbols of US immigration did not mention language constraints or what type of person would be welcome to the country.
"It doesn't say anything about speaking English," Acosta said. "Aren't you trying to change what it means to be an immigrant coming into this country if you're telling them you have to speak English? Can't people learn how to speak English when they get here?"
Miller responded by arguing that the statue, located on New York's Liberty Island, was about American liberty "enlightening the world."
READ MORE: 'He will fall': Key Watergate figure slams 'obnoxious' Trump policy adviser
He also said that the poem was not part of the original monument. Rather, he pointed out, it had been added in later.
After Acosta, the son of a Cuban immigrant, asked if the US would now only be welcoming immigrants from predominantly English-speaking countries like Great Britain and Australia, Miller castigated the CNN reporter for being "insulting."
"I am shocked at your statement that you think only people from Great Britain and Australia would know English. It reveals your cosmopolitan bias to a shocking degree," Miller said.
Clearly annoyed at Acosta's line of questioning, Miller then labelled the reporter "foolish" and "ignorant."
"The notion that you think this is a racist bill is so wrong and so insulting," he added.
Reaction to the bizarre incident has been mixed, with some people pointing out a certain hypocrisy in Miller's perceived hectoring of Acosta.
Other more conservative commentators, however, appear to have taken umbrage at Acosta's quotation of a 19th century poem.