US carrier Gerald R. Ford 'makes history,' completes first landing & launch of aircraft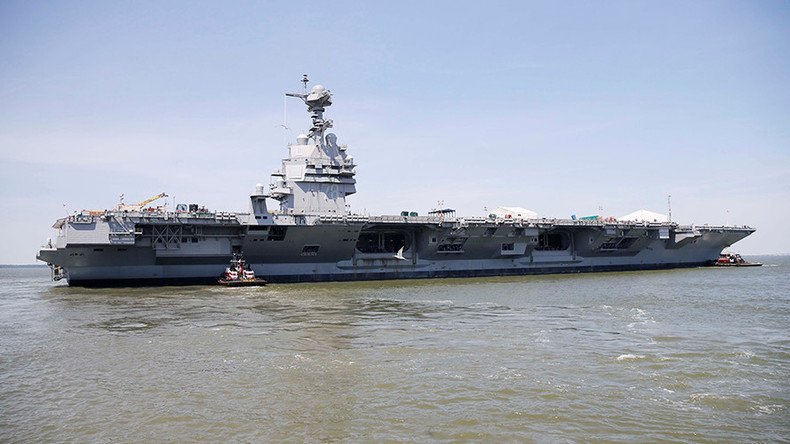 The US Navy's newest aircraft carrier, the $12.9 billion warship USS Gerald R. Ford, has completed its first launch and landing of a fixed-wing aircraft using an electromagnetic launch system off the coast of Virginia.
"Today, USS Gerald R. Ford made history with the successful landing and launching of aircraft from VX-23 using the AAG and EMALS," Admiral Phil Davidson, US Fleet Forces commander said in a statement.
"Great work by the Ford team and all the engineers who have worked hard to get the ship ready for this milestone."
The EMALS (Electromagnetic Aircraft Launch System) is a motor drive-based aircraft catapult system that helps to accelerate jets for takeoff, while the AAG (Advanced Arresting Gear) is used to rapidly decelerate when landing.
US President Donald Trump had previously lambasted the carrier's systems to launch and land fighter jets, urging the Navy to go back to using steam catapults, because the new systems were "no good."
Yet, last week, President Trump helped commission the USS Gerald R. Ford, calling it a "100,000-ton message to the world."
"Mr. President, one of your predecessors famously remarked, 'Speak softly and carry a big stick.' We offer you sir, a big stick," acting Secretary of the Navy Sean Stackley remarked, as cited by Wood TV, saying the warship was available for the president's use.
Named after the country's 38th president, the most technologically advanced warship in the US Navy can sail for 20 years without needing to refuel. According to the US Department of Defense, the USS Gerald R. Ford is expected to be in operation in 2020.
The commission comes as Washington is increasingly showing a strong military presence in the Asian region amid brewing tensions with North Korea.
President Trump adopted a much harder line on Pyongyang than his predecessor, Barack Obama, repeatedly calling on North Korea to abandon its nuclear and missile programs and threatening that all options are on the table. North Korea has refused to back down, conducting a second intercontinental ballistic missile (ICBM) test on Friday.
Trump also accused China of not doing enough to diffuse the situation, tweeting on Sunday that "We will no longer allow this to continue."
There are also ongoing tensions with China over its territorial claims in the South China Sea, where the same waters are also claimed by Taiwan, Vietnam, the Philippines, Malaysia, and Brunei. Washington has repeatedly slammed Beijing's claims to nearly all of the resource-rich South China Sea and its construction of military facilities on islets there.
Meanwhile in China, President Xi Jinping gave a speech at large scale military parade at a remote army base on Sunday, calling on the 2.3 million-strong People's Liberation Army to "unswervingly follow the absolute leadership of the Communist party of China."
"We need to build a strong people's military more than any other time in history," the Chinese leader told his troops.
You can share this story on social media: