Cancer-causing pollutants detected in most tap water across US - study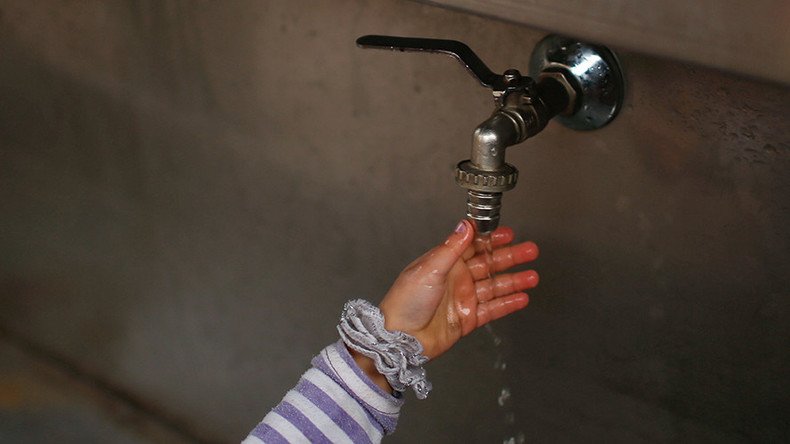 Tap water from 48,000 public water utilities was found to contain multiple cancer-causing agents from arsenic, dioxane, chromium 6 to nitrates, according to researcher with the Environmental Working Group.
Researchers published the findings of their five year study in an online database, searchable by zip code or a local utility's name, with findings on tap water in public water systems in all 50 states.
A search under the New York City zip code 10017 and found tap water contaminated with over 10 cancer causing chemical including Bromodichloromethane, chloroform, chromium, dichloroacetic acid, dioxane and strontium, among others.
The chemicals can come from agricultural runoff, industry, treatment byproducts, or be naturally occurring.
"Americans deserve the fullest picture of what's in the tap water," Ken Cook, president EWG said in a statement. "But they won't get that information from the government or, in many cases, from their utilities. The only place they'll find that is EWG's drinking water report."
The tap water was tested for 500 different contaminants and researchers found evidence of 267.
EWG said most people find a glass tap water comes with a dose of industrial and agricultural contaminants that have been "linked to cancer, brain and nervous system damage, or developmental defects."
Researchers discovered 93 chemicals that are linked to increased risk of cancer. Of those 78 chemicals were linked with brain and nervous system damage, 63 linked to developmental harm to children or fetuses, 45 linked to hormone disruption and 38 might cause fertility problems.
Other findings were that more than 40,000 water systems had detections of known or likely carcinogens exceeding established federal or state health guidelines.
A study of Houston's tap water found 10 cancer-causing contaminants, including arsenic and chloroform according to the Houston Chronicle.
Researchers also found Houston's tap water had an additional 30 contaminants that matched or were close to national and state averages, including aluminum, cyanide and fluoride.
In Houston, researchers used data from the Texas Commission on Environmental Quality as well as the U.S. EPA Enforcement and Compliance History database. The study used water tap information from 2010 to 2015.
"Just because your tap water gets a passing grade from the government doesn't always mean it's safe," Cook said. "It's time to stop basing environmental regulations on political or economic compromises, and instead listen to what scientists say about the long-term effects of toxic chemicals and empower Americans to protect themselves from pollutants even as they demand the protective action they deserve from government."
The report recommends people installing in-home water filtration systems which can help reduce the contaminants.
Early in July, stream sediments in Pennsylvania downstream from two fracking wastewater treatment facilities were found to contain radioactive material and carcinogens, according to scientists from Penn State, Colorado State and Dartmouth universities.
Their analysis detected peak concentrations of radium, chloride, barium, strontium, radium and organic compounds in Conemaugh River watershed. The two major classes of organic contaminants included nonylphenol ethoxylates, endocrine-disrupting chemicals, and polycyclic aromatic hydrocarbons, known carcinogens.
When scientists examined steam sediments in Blacklick Creek, just downstream from one treatment plant, it was found to contain about 200 times the level of radium found upstream of the plant.
The highest concentration of radium was just 14 percent below the level at which it would have to be treated as radioactive waste in some US states.
The quality of the US's drinking water took a blow in 2015 when the lead contamination crisis was exposed in Flint, Michigan and illustrated the devastating impacts of untreated water flowing through old lead pipes leading to the poisoning of 9,000 children.
In June, five officials in the state were charged with manslaughter, among them, the head of the state health department.
You can share this story on social media: