Trump's Mexico wall prototypes delayed despite House vote to fund project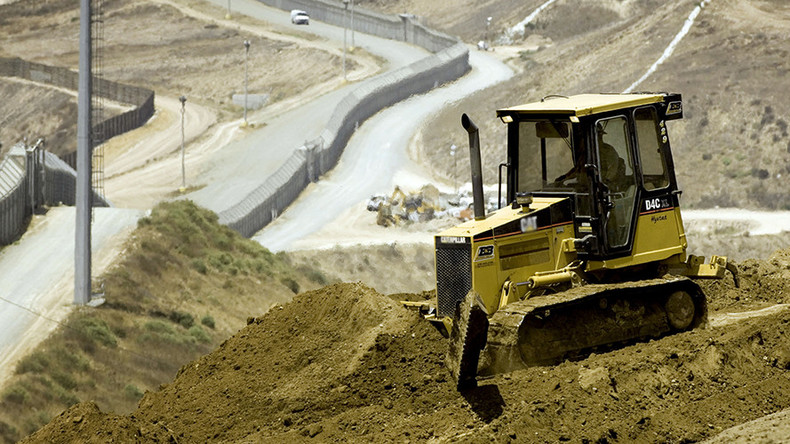 The construction of a new type of wall on the US-Mexico border in the San Diego area has been delayed because of contractors' complaints about the bidding process, the Trump administration said.
Two companies that bid on mock-ups of the proposed border wall with Mexico have submitted formal complaints regarding the process after failing to make it to the second round, AP reported.
While their claims are being reviewed by the Government Accountability Office, the construction of a new border wall in San Diego has been suspended until November, according to Customs and Border Protection, which is "beyond our original summer 2017 timeline," the agency said in a statement sent to the San Diego Union-Tribune.
On Thursday, the Trump administration also notified members of Congress about the delay, AP reported.
The House of Representatives has just voted to spend $1.6 billion to build new and fortify existing fencing on the US border with Mexico – with $251 million of it allocated for building back-up fencing in the already fortified San Diego area. That is in addition to $20 million approved earlier this year to build prototypes of the wall that the Trump administration wanted.
No contracts have been awarded yet for the San Diego prototypes, which were expected to serve as a model for other segments of the wall along the US-Mexico border.
Don't let the fake media tell you that I have changed my position on the WALL. It will get built and help stop drugs, human trafficking etc.

— Donald J. Trump (@realDonaldTrump) April 25, 2017
Along with funding for the San Diego barrier, the House has allocated $784 million for 32 miles of new border fencing in other areas and $498 million for 28 miles of levee wall in the Rio Grande Valley in Texas.
President Donald Trump has campaigned on a promise to build the wall, saying open borders have led to drugs and crime pouring into the United States.
He also repeatedly said that Mexico would pay for the wall. Mexican officials said they won't.
Eventually, but at a later date so we can get started early, Mexico will be paying, in some form, for the badly needed border wall.

— Donald J. Trump (@realDonaldTrump) April 23, 2017
Trump has yet to enact policies that would get Mexico to pay for it through import tariffs or other means, as the president previously suggested.
For now, this means that American taxpayers will foot the bill.
The funding for the wall was tucked into the $788 billion spending bill for the next budget year, which begins in October and includes the Pentagon's budget.
Lawmakers did not vote on the wall funding separately.
Congressional Democrats were hoping to be able to defeat the wall funding by voting on it as a separate item, considering a number of Republicans represent districts with large immigrant communities, where many oppose such a wall.