The fish stinks from head down, except for me & the president – Scaramucci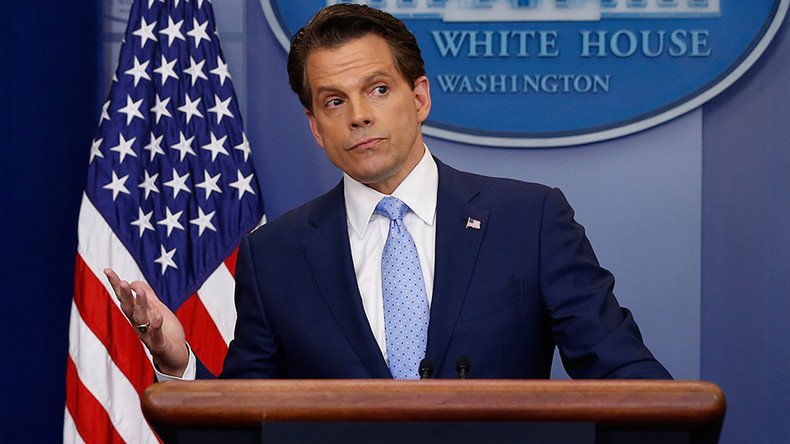 White House Communications Director Anthony Scaramucci appeared on CNN Thursday to complain about leakers and rebuff allegations that he accused Chief of Staff Reince Priebus of releasing sensitive information to the media.
Scaramucci tweeted late Wednesday that he would contact the FBI and Department of Justice about his financial disclosure forms being "leaked." Scaramucci later deleted the tweet.
"In light of the leak of my financial disclosure info which is a felony. I will be contacting @FBI and the @TheJusticeDept," he said, adding, "#swamp @Reince45."
Scaramucci's complaint stemmed from his financial disclosure forms being circulated this week, which revealed he earned $4.9 million from his hedge fund stake along with a salary of more than $5 million between January 2016 and the end of June 2017.
However, financial disclosure forms are available to the public upon request, so no leak occurred, nor did any felony.
The former Wall Street executive later denied he was pointing the finger at Priebus, tweeting, "Wrong! Tweet was public notice to leakers that all Sr Adm officials are helping to end illegal leaks.@Reince45."
Speaking on CNN's New Day Thursday, Scaramucci invoked the phrase, "the fish stinks from the head down," saying, "I can tell you two fish who don't stink, okay, and that's me and the president."
"I don't like the activity that's going on in the White House, I don't like what they're doing to my friends, I don't like what they're doing to the president of the United States or their colleagues in the West Wing," he said.
Both Scaramucci and President Donald Trump have expressed anger at leaks coming from the within the government.
"We have had odds, we have had differences," Scaramucci said about Priebus.
"I don't know if this is repairable or not, that will be up to the president," Scaramucci said. "But he's the chief of staff, he's responsible for understanding and recovering and helping me do that inside the White House, which is why I put that tweet out last night."
Scaramucci then appeared to suggest Priebus was behind the "leak," saying: "When I put out a tweet and I put Reince's name in a tweet, they all make the assumption that it's him because journalists know who are the leakers.
"So if Reince wants to explain he's not a leaker, let him do that. But let me tell you about myself. I'm a straight shooter and I'll go right to the heart of the matter," Scaramucci said.
READ MORE: White House leaks must stop or 'everyone is getting fired', warns new coms chief Scaramucci
Priebus was the head of the Republican National Committee before taking the role as Trump's chief of staff.
The Washington Post reports Scaramucci has a contentious relationship with Priebus, claiming he has a "particularly crude nickname" for the chief of staff and has reportedly"savaged" him in conversations with White House staff.
Scaramucci reportedly holds a grudge against the former RNC head for attempting to stop him getting a White House position when Trump was elected.
Priebus denied there was tension between the two, telling The Weekly Standard: "I support Anthony 100 percent. We go back a long long way and are very good friends. All good here."
Scaramucci was appointed as communications director last week, in a move which reportedly caused conflict in the White House, with Priebus and strategist Steve Bannon opposing his appointment.
White House Press Secretary Sean Spicer is believed to have resigned in response to the hedge fund manager's hiring.
You can share this story on social media: