Trump lauds potential 13k new jobs in Wisconsin Foxconn factory, but robots may land all the gigs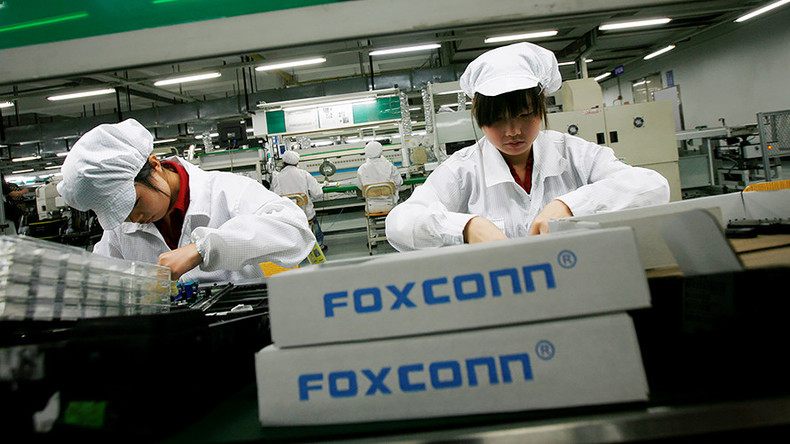 President Donald Trump has announced that electronics giant Foxconn is investing $10 billion in its first US assembly plant in Wisconsin, where an expected minimum of 3,000 jobs will be created. Technology, however, may supplant human jobseekers
Taiwan-based Foxconn, the world's biggest contract manufacturer, which also builds parts for Apple, is expected to invest $10 billion in the state of Wisconsin. The company will produce LCD screens for high-tech electronics.
Joining Trump in a special announcement Wednesday at the White House were Foxconn Chairman Terry Gou, House Speaker Paul Ryan (R-Wisconsin) and Wisconsin Governor Scott Walker (R).
The president, using the electronic giant's move to Wisconsin to highlight his "Buy American, Hire American" agenda, pointed to Gou in his announcement and said: "If I didn't get elected he definitely would not be spending $10 billion."
During the 2016 campaign, Trump promised to bring back manufacturing jobs which have been outsourced to countries with cheaper labor.
"Foxconn joins a growing list of industry leaders who understand that America's capabilities are limitless and that America's workers are unmatched," Trump said.
But the jobs that the president was touting today may not be the same factory jobs that once employed so many people in the heartland. The jobs that will be required for Foxconn's plant specializing in the manufacturing of LCD screens are mostly high skill, advanced manufacturing jobs. These positions require engineering skills that ordinary factory workers would not be able to complete without the correct training.
READ MORE: Ford shifts production of Focus to China after Trump said he prevented Mexico move
Dean of the Opus College of Business at the University of St. Thomas and author of "Managing Industry Creation," Stefanie Lenway, explained, "These are going to be high-level engineering jobs, but we have a shortage of engineers," Wired reported.
Lenway added that these jobs entail incredibly clean work. Just a speck of dust can damage the product. So, manufacturers are anticipated to employ robots to do the fabrication. Only a few humans need to be present, and they would purportedly be covered head to toe, performing very important tasks.
In 2013, Foxconn promised to spend $30 million on a plant in Pennsylvania, which never came to fruition, according to Wired.