Air Force secretary critical of nuclear waste routes to Yucca Mountain
Published time: 24 Jul, 2017 18:56
Edited time: 25 Jul, 2017 08:03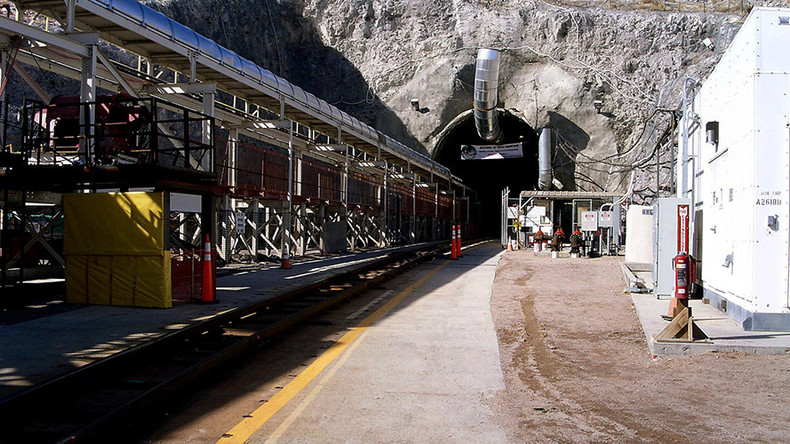 If the Trump administration restarts the Yucca Mountain nuclear waste storage project, the US Air Force says the proposed transport route would endanger its operations, from tracking North Korea missile tests to timekeeping for the New York Stock Exchange.
"If Yucca Mountain becomes a storage area, it needs to operate without impacting the ability of the country to defend itself," Air Force Secretary Heather Wilson told the Las Vegas Review-Journal. "There is no route across the range that would not impact testing and training."
In addition to training and testing, the 2.9 million-acre Nevada Test and Training Range serves many other "high priority" Air Force operations, Wilson said.
Wilson said infrared sensors on the range are used by the Air Force to detect North Korean missile tests "and we calculate not only that there has been a launch, but where that launch is headed, how fast it's going, what angle it's going at and within minutes we communicate that information to people on the ground so they can make decisions."
The service is also responsible for the timing signals for automated teller machines and the New York Stock Exchange, she added.
The Department of Energy (DOE) had previously evaluated possible rail routes for hauling high-level nuclear waste to the proposed repository before the project was defunded in 2012.
Originally the Chalk Mountain route would have run right through the Air Force testing site, and the Nevada National Security site.
The Chalk Mountain route was later downgraded to "nonpreferred" by the DOE, but it is still one of the routes evaluated for the license application.
Even the Nye County route, which closely parallels the Nellis Air Force Base, could raise encroachment issues, Wilson said. Some 75 percent of all live USAF munitions stored in the US are at Nellis, which also conducts air combat training.
The Air Force also wants to expand the site, because it has shrunk relative to its purpose as military jets have become faster. The F-22 Raptor can fly across the testing site in seven minutes, flying at roughly 17 miles per minute.
In 2010, the Obama administration canceled the maintenance project for the national nuclear waste repository in Nevada. President Donald Trump's proposed 2018 budget includes $150 million in funding to revive the licensing process for Yucca Mountain, however.
On July 18, the Senate Appropriations Subcommittee on Energy and Water Development approved a $38.4 billion funding measure that included a provision for consolidated nuclear waste storage and funding to allow the Department of Energy to store nuclear waste at private facilities licensed by the Nuclear Regulatory Committee. But the subcommittee excluded the funds requested to restart the Yucca Mountain re-licensing process.
Local opposition to Yucca Mountain has always been strong, especially while Harry Reid (D-Nevada) served in the Senate as Majority Leader.