'Shut down the Workhouse!' Riot police called in over St. Louis prison AC protest (VIDEO)
Published time: 23 Jul, 2017 16:31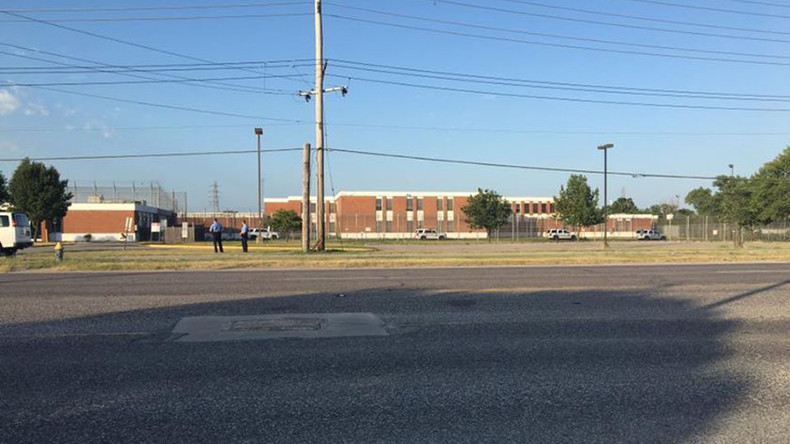 Protesters squared off against riot police outside the St. Louis Medium Security Institution in Duluth, Minnesota, where they were demonstrating against allegedly inhumane conditions inside the facility.
Between 100 and 150 protesters gathered outside the prison, also known as the St. Louis Workhouse, at around 7:00pm local time on Saturday. According to the event's Facebook page, the demonstrators were concerned about the poor living conditions and overheating in the jail.
"Our family, friends and others who are currently locked up awaiting trial or serving short sentences in the Workhouse are right now inside a literal tinder box because of the heat wave," the event description read. "Shut down the workhouse, the torture has gone on long enough."
A few members of the crowd tried to scale the prison fence, prompting a response from the police on the scene clad in riot gear. Officers used pepper spray to disperse the crowd, and at least one protester was seen being dragged away by police.
Among the protesters was Missouri State Senator Jamilah Nasheed.
"We're gonna have to change the conditions of what happened here in the Workhouse," Nasheed told KSDK.
As a heatwave sweeps the area, prisoners have been heard screaming for help since the building, which was built in the 1960s, has no air conditioning. Earlier in the week, a reporter filmed men inside yelling "help us!" and "we ain't got no AC!" through the windows.
"I'm not saying that it's supposed to be the Ritz Carlton, we all know that, but the conditions that we have them in is unconstitutional to some degree," KMOV quoted State Representative Joshua Peters as saying, who recently toured the facility and also heard complaints about mold and a rat infestation.
On Friday, city officials announced that a temporary AC system will be installed perhaps as early as Monday.
"In addition to not having their freedom, [they] are now experiencing cruel and unusual punishment," one protester told KSDK.
"The temporary air conditioning they're going to put up in there for a week or two is a small band-aid on a big problem."
The jail holds about 750 inmates, 98 percent of whom have not yet been convicted and are awaiting trial, activists say.