'Help us!': St. Louis inmates struggle in heat wave with no air conditioning (VIDEO)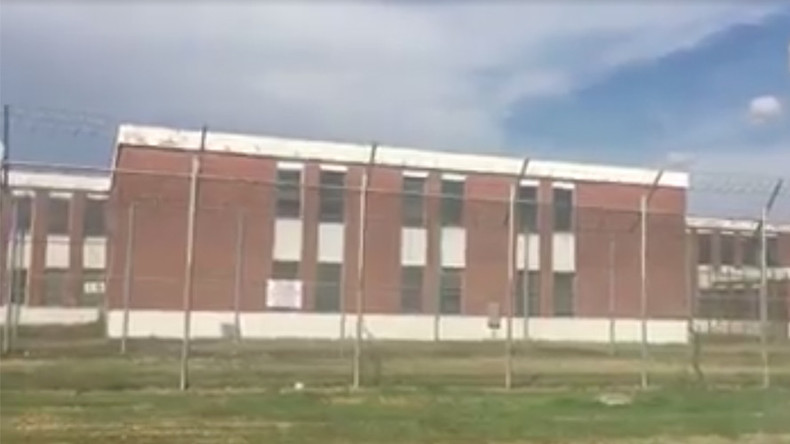 With temperatures soaring to 100F (37C), inmates at a jail in St. Louis, Missouri have been begging for help because of a lack of air conditioning.
In a video shot by KTVI reporter Elliott Davis outside the medium security jail, inmates can be heard screaming for help. The reporter was later asked to leave the property.
The reporter requested a tour of the facility to inspect conditions within and possibly talk to inmates. That request was denied.
""Some will say they don't deserve air conditioning, they should be hot," said St. Louis Corrections Commissioner... https://t.co/zJvfrlmUmu

— Sunken Place STL (@sunkenplacestl) July 19, 2017
A copy of the video titled "What can we do to fix this?" was posted by Derk Brown on his Facebook page. By Thursday the footage had garnered over 468,000 views, 2,800 shares, and 1,300 comments.
One commentator wrote: "The purpose of the building is to punish people for committing crimes. It isn't designed for purpose of making comfortable!"
Another, however, described the situation as "torture."
One person added: "The people saying these folks are criminals... not true…most people at the work house haven't even been convicted let alone charged that's where they are kept until found guilty and the transported. Some are there for years just waiting for case to be tried... no conditions for innocent men and women."
Most of those housed in the jail have not been convicted of a crime and are awaiting trial. Many simply cannot post bail, according to the Riverfront Times.
The facility, built in 1966, can house over 1,100 inmates. Only a few sections of the institution are air conditioned, meaning staffers routinely work in hot spaces. The inmates must rely on vented windows for air circulation.
Staffers and newly released inmates have described awful conditions, Davis said.
State House Representative Joshua Peters (D-St. Louis), wrote to the head of the Missouri Department of Health and Senior Services to take immediate action, despite jurisdictional issues with the facility being operated by the City of St. Louis. The letter warns the state might be liable if it fails to act
"I recently had the opportunity to view first-hand the deplorable and unsanitary health conditions of the St. Louis Workhouse," Peters wrote. "[S]pecifically mold in dining facilities as well as infestations of insects and vermin. The facility is not air conditioned and inmates have been calling from their cells begging for help in this blistering heat wave."
A spokesman for St. Louis Mayor Lyda Krewson said staffers provide inmates with juice and ice several times a day to keep them cool.
Corrections Commissioner Dale Glass has set up cooling stations inside the jail, and medical help is available for any health issues with the heat, he told KMOV.

"I'll do what I can with the resources I have, and my main objective is to make sure that although it's hot, it's safe," Glass said.
Activists are planning an emergency protest outside the jail on Friday evening.
The National Weather Service has issued a warning about a "dangerous" heat wave in St. Louis that will continue through Saturday and possibly longer. Temperatures are expected to crest 100F, with heat indices ranging between 100F and 110F (37-43C).
You can share this story on social media: