'Only crime so far is leaks against us' – Trump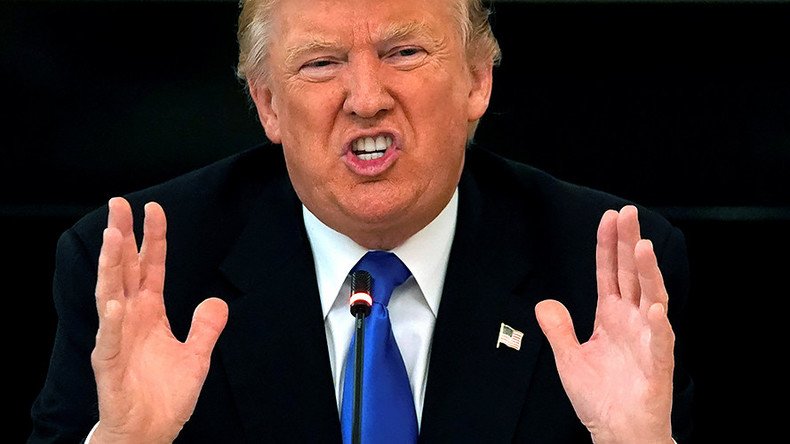 As the probe into his administration's alleged ties to Russia continues, US President Donald Trump has said that although he has the power to grant pardons, so far, the only crimes which have been committed are the leaks against his government.
The president lashed out at the media in a series of tweets on Saturday.
Earlier, the Washington Post reported that Trump had asked his advisers about his powers to pardon himself as well as his aides and family members in the ongoing Russia investigation, according to White House sources, although one of them said this was more in the context of curiosity over the scope of the investigation's powers rather than an attempt to avoid prosecution.
READ MORE: US corporations lobby against anti-Russia sanctions
Trump appeared to respond to the article by tweeting: "While all agree the US President has the complete power to pardon, why think of that when only crime so far is LEAKS against us. FAKE NEWS."
Another Washington Post leak pertained to Trump's appointed attorney general, Jeff Sessions, whose meeting with Russian Ambassador Sergey Kislyak was allegedly intercepted by the intelligence services, though Sessions has denied talking about policy-related issues and says he only met Kislyak in his capacity as a senator.
Trump tweeted: "A new INTELLIGENCE LEAK from the Amazon Washington Post, this time against AG Jeff Sessions. These illegal leaks, like Comey's, must stop!"
The "Amazon" jibe refers to Jeff Bezos, the billionaire who owns both the Washington Post and Amazon.com. Although the two entities are independent of one another, Trump has previously attacked the Washington Post, which has been critical of him, and claimed Bezos uses the newspaper to offset his tax bill.
READ MORE: Putin & Trump could have met many times at G20, gone to toilet together – Lavrov
Trump also criticized the focus on alleged cover-ups in his circle while ignoring similar accusations about his former election rival, Hillary Clinton, noting that his eldest son, Donald Trump Jr., had willingly released the contents of his emails while Hillary had tried to delete hers.
Donald Trump Jr., Trump's son-in-law, Jared Kushner, and a former campaign chairman are to appear before a Senate committee on the ongoing Russia investigation next week. Earlier in July, Trump Jr. published a series of emails between himself, a publicist, and a Russian lawyer who claimed to have compromising material on Hillary Clinton. However, this material ultimately never emerged.
You can share this story on social media: