Charges filed against Florida teens who recorded & taunted drowning disabled man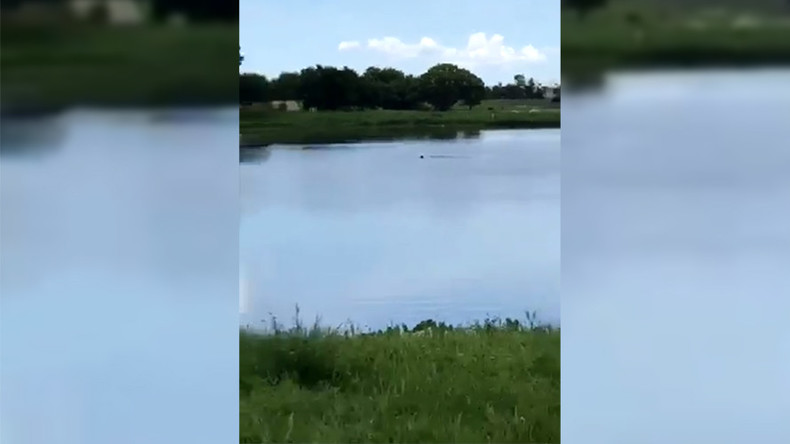 A group of teenagers who filmed and taunted a drowning man in a lake are now facing criminal charges for not reporting his death. Authorities are also pushing for legislation that would allow them to prosecute similar cases in the future.
On Friday, the Cocoa Police Department (CPD), in conjunction with the Florida State Attorney's Office, announced they are pursuing criminal charges against the five teens under a little known Florida Statute that in short requires a person to report a death.
CPD Chief Mike Cantaloupe said the day after the police found that the teens had not broken any laws, they conducted further research with the state attorney's office, which "yielded the decision to move forward with charges under this statute."
"It's our belief that this law has never been enforced in a scenario like this, but we feel it could be applicable," Cantaloupe said in a statement.
Under Florida Statute 406.12, any person who "becomes aware of the death of any person" is required to "report such death and circumstances forthwith to the district medical examiner." Anyone who fails to report a death can be charged with a first-degree misdemeanor.

Cocoa Mayor Henry Parrish also released a statement, imploring the state attorney to "follow through and file the charges presented by the Cocoa Police Department!"
"If this case can be used as an example to draft new legislation, then I am committed to move forward to make that happen," Parrish added.
On July 9, a group of teens in Bracco Park witnessed Jamel Dunn, 31, drowning in Bracco Pond. Rather than help him or call the authorities, they laughed and mocked him as a cell phone camera captured his slow death.
"He started to struggle and scream for help and they just laughed. They didn't call the police. They just laughed the whole time. He was just screaming… for someone to help him," Yvonne Martinez, spokeswoman for the Cocoa Police Department, told the Washington Post.
On Friday, police said a neighbor's home security camera showed Dunn scaling a fence and going into the water "willingly and on his own."
"Regardless of the circumstances surrounding his decision to enter the water that day, there is absolutely no justification for what the teens did," Cantaloupe added. "Pursuing criminal charges is a way to hold them accountable for their own actions."
Dunn's fiancée filed a missing persons report on July 12 but Dunn's "badly decomposed" remains were not discovered until July 14, five days after the teens filmed the incident.
In a media briefing Friday, Cantaloupe said the case comes down to a "moral issue."
"It's hard to believe that somebody could watch another human being, whether it be in distress, whether it be what happened, and not do something or at least not notify somebody that you're trying to get help," Cantaloupe said. "I mean, I want to think that's a natural instinct for any of us, that if we saw somebody in trouble or somebody having an issue that we would at least try to get them help."
Cantaloupe added he would also like to see lawmakers enact legislation that would allow them to prosecute similar cases in the future.
"I would like to something that when there is a horrific case or something of this magnitude that there would be some sort of legislation or some sort of law that would require the reporting to law enforcement or to somebody," Cantaloupe said.
Cantaloupe did not provide the names or any other information about the teens, only saying they were between the ages of 14 and 16. He did not believe that any of them had any prior criminal record.
Cantaloupe said that when detectives brought the teens in and talked to them "there wasn't a lot of remorse" among one or two of them. However, he said that all the parents were "very disturbed" and "overly concerned."
Cantaloupe said charging document will be sent to the state a along with the case report and video evidence for a review and determination if the charges will be prosecuted. He added that it could take a few weeks for the state attorney to officially set the charges.
Dunn's family set up a GoFundMe campaign to cover his funeral expenses. As of Friday afternoon, the crowdfunding page has received over $25,000 from nearly 800 people in four days.
In a Facebook post, Simone Scott, who identified herself as Dunn's sister, said that the funds will be used to support the mothers of his two young daughters, ages 6 and 7.
She also said that some of the funds will be used to support a petition on Change.org, calling on Governor Rick Scott (R) to introduce legislation entitled "Dunn's right to Duty." Scott said that the law would "keep his name alive and to turn something negative into something positive and prevent other senseless acts and crimes from happening."
As of Friday, the petition has gathered more than 500 signatures so far.
"I don't know if there's any just outcome to this. There's nothing that's going to replace somebody's life," Cantaloupe said. "We don't want another family to have to go through what the Dunn family has went through."