Animal rescuer tackles swan in daring fishhook rescue (VIDEO)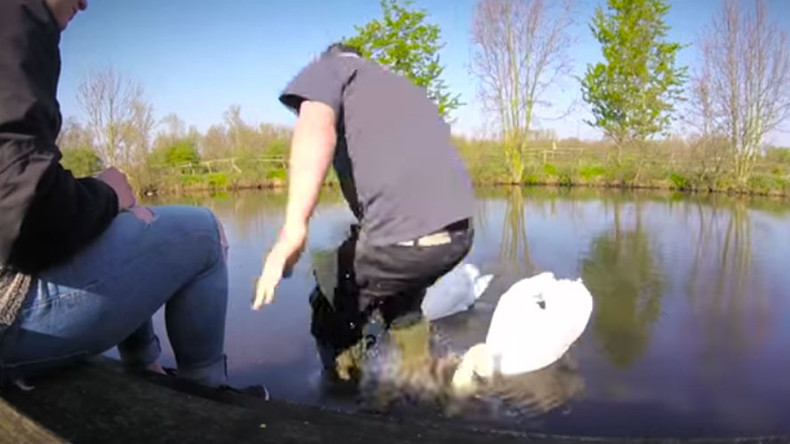 A German Good Samaritan known for extracting animals from sticky situations has pulled off a daring rescue, jumping into a lake to save a swan that had been punctured by a fishing hook.
Stefan Brockling, who runs a one-man animal rescue operation in Dusseldorf, Germany, leapt into action when emergency services reportedly failed to catch a swan entangled in a fishing line.
With the animal in danger of seriously injuring its leg with the line or through infection, Brockling took matters into his own hands by plunging straight into the water to nab the bird.
In a video of the bizarre recovery effort, Brockling wrestles with the irate swan after luring it closer to shore with food.
Armed with a GoPro camera, a pair of rubber boots, and what looks to be a sock, Brockling brought the animal to dry land.
"This swan from the outskirts of Dusseldorf had a fishing hook in the leg," Brockling's video caption explains.
"Firefighters tried to pull the swan off the line. But shortly after, the cord snapped and the animal fled. Three days later, we were able to secure the bird, which [was] heavily injured.
"The fishhook had to be worked out in the veterinary practice in Hattingen. Two weeks later, the animal returned to his partner," the video said.
Brockling previously staged a dramatic rescue to save an injured pigeon lying on an active train track.
His YouTube page shows a number of other kind-hearted animal rescues, including one in which he braves an underground drain to assist a lost duckling.