No Gitmo for 'Blackflag': Suspected terrorist to stand trial in Pennsylvania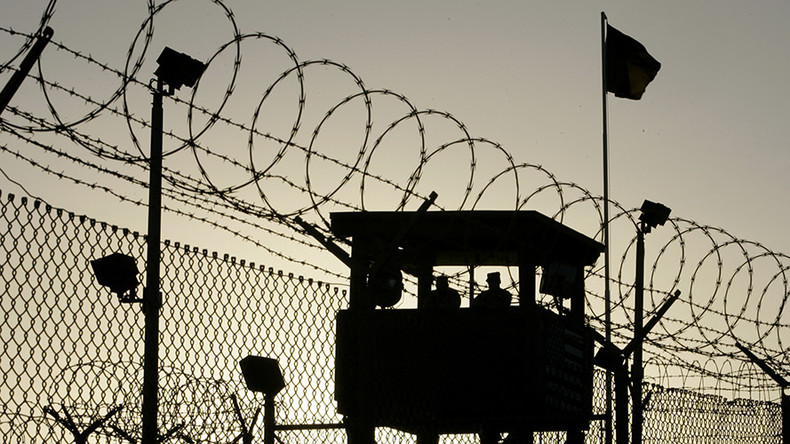 An Algerian national accused by the US of supporting and recruiting for Al-Qaeda has been brought to the US for trial before a federal court, rather than face a military commission in Guantanamo Bay, Cuba.
Ali Charaf Damache, 46, also known as "Theblackflag," was extradited from Spain and scheduled to face a federal judge in the Eastern District of Pennsylvania on Friday for arraignment on charges filed in 2011.
The indictment charges Damache with conspiracy to provide material support to Al-Qaeda and attempted identity theft, which carry up to 45 years in prison.
Damache, who holds dual Algerian and Irish citizenship, was arrested in Ireland in 2010 on unrelated charges. He was released after an Irish judge rejected the Obama administration's extradition request, only to be arrested again in Spain in 2015.
According to the New York Times, Damache's extradition and arraignment before a regular US court represents a deviation from President Donald Trump's campaign promise to fill up Guantanamo Bay with "bad dudes," and from statements about putting terrorism suspects on trial made by Attorney General Jeff Sessions.
Sessions has described the detention camp at Guantanamo Bay as "a very fine place for holding these kind of dangerous criminals" and criticized the Obama administration's repeated attempts to close down the facility, which ended up being frustrated by opposition from Congress and the Pentagon.
In a March interview with radio show host Hugh Hewitt, Sessions said he was against trying the terrorism suspects currently held at Guantanamo in regular US courts.
"I don't think we're better off bringing these people to Federal court in New York and trying them in federal court where they get discovery rights to find out our intelligence, and get court-appointed lawyers," he said.
However, it was not clear whether he was referring to all terrorism suspects in principle, or just those captured during US military operations and kept at Guantanamo as de facto prisoners of war.
Earlier this month, Sessions visited the detention facility in Guantanamo in the company of deputy attorney general Rod Rosenstein, and reportedly also Director of National Intelligence Dan Coats.
Damache was wanted in connection with a plot to kill Swedish cartoonist Lars Vilks, after he drew an image of the Muslim prophet Muhammad with the body of a dog.
His identity was made public in the case involving Pennsylvania resident Colleen LaRose, dubbed "Jihadi Jane" by the media.
LaRose pleaded guilty in 2011 to charges of conspiracy, material support, and making false statements. She was sentenced in 2014 to a 10-year prison term.