California judge rules against Trump's ban on sanctuary cities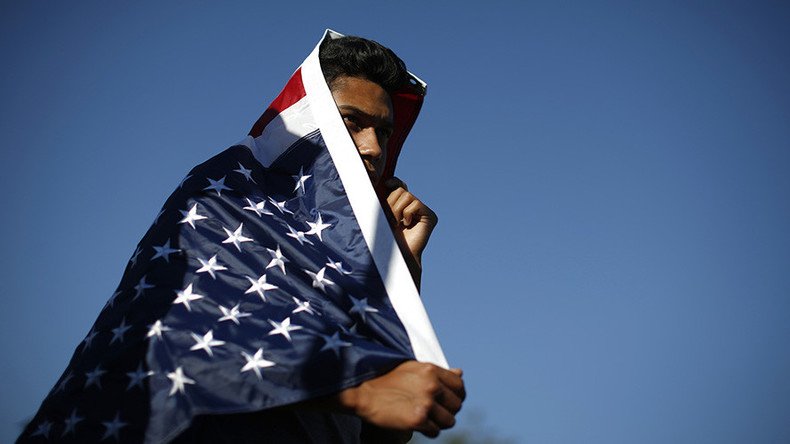 A federal judge in San Francisco, California has refused to reinstate President Donald Trump's executive order that seeks to get state local law enforcement to cooperate with federal authorities on undocumented immigrants.
The US Department of Justice had asked District Court Judge William Orrick to reverse his own April injunction against Trump's executive order. The judge refused to do so, effectively blocking the enforcement of the order across the country.
The Trump administration said it would slash federal aid to jurisdictions which did not comply with federal law (8 U.S.C. 1373 ) which prohibits local and state governments from enacting laws or policies which limits communication with Immigration and Customs Enforcement (ICE) about "information regarding the immigration or citizenship status" of individuals.
Orrick decided that the threat to withhold federal funds from cities which did not cooperate with federal immigration enforcement could be unconstitutional.
In May, the Department of Justice issued a memo clarifying that cities that "willfully refuse to comply" with federal law could lose grants from the Justice and Homeland Security departments, but not other federal funding.
However, Orrick said he found the DOJ's memo unconvincing, as it would allow the US attorney general to reverse his stand at any moment.
Meanwhile, Attorney General Jeff Sessions was in Philadelphia, Pennsylvania Friday, pushing for cooperation between law enforcement at federal, state and local levels.
"Unfortunately, this cooperation has been impeded by the policies of some cities and states. Some jurisdictions in this country refuse to cooperate with federal immigration authorities and turn over illegal aliens who commit crimes," Sessions told police officers.
Officials in the City of Brotherly Love said local law enforcement will not act as immigration agents ‒ a position Sessions has challenged as unconstitutional.
"I am especially saddened for the residents of Philadelphia who have been victimized as a result of these policies," he continued.
The attorney general cited several crimes involving illegal immigrants in the city. Sessions cited a case of an illegal immigrant who was supposed to be deported in 2015, but because of Philadelphia's policies, prevented local law enforcement from carrying out ICE's detainer request. "He was released, and in August of last year, he was charged with raping a child," Sessions said.
The DOJ chief urged the city of Philadelphia and every "sanctuary" jurisdiction "to consider carefully the harm they are doing to their residents by refusing to cooperate with federal law enforcement and to re-think these policies."
Enforcing Trump's policy on sanctuary cities has proved a tough challenge for the DOJ in at least 10 jurisdictions across the country.
In California, the State Assembly's Judiciary Committee recently approved legislation that, if signed into law, would protect undocumented immigrants in the Golden State by severely limiting cooperation between local law enforcement and federal immigration authorities.
"ICE is out to arrest and deport honest, hard-working parents who obey the laws and pay their taxes and owe allegiance to the red, white and blue," said state Senate leader Kevin de Leon, who introduced the measure.
The Los Angeles Police Department supports the proposed legislation, saying LAPD officers need the immigrant community's trust to effectively investigate crimes by ensuring witnesses and victims will not be arrested and deported for cooperating with law enforcement.
On Wednesday, ICE's acting chief Thomas Homan said he planned to crack down on what he termed "ludicrous" sanctuary cities, and praised Trump for "taking the handcuffs off law enforcement," in interview with the Washington Examiner.
He also plans to add 10,000 more agents to the force. Under Trump, illegal border crossings have decreased 70 percent and arrests in the US have increased 40 percent, according to Homan.
You can share this story on social media: