Trump disappointed in Sessions, but still has confidence in AG ‒ White House
Published time: 20 Jul, 2017 21:21
Edited time: 21 Jul, 2017 07:46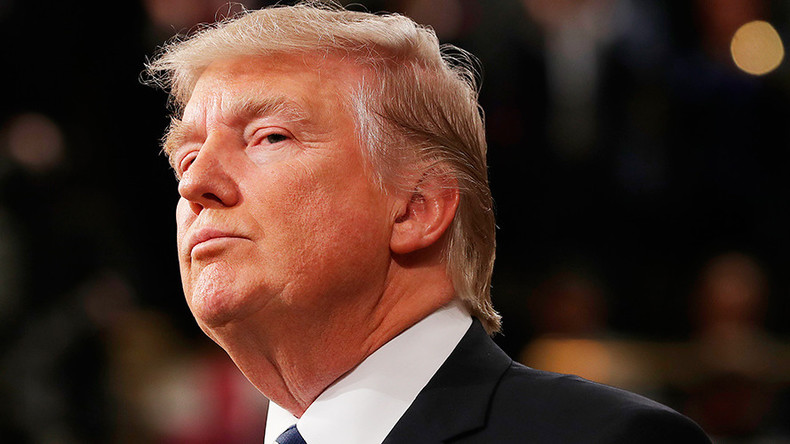 President Donald Trump maintains confidence in Attorney General Jeff Sessions, the White House has said. The statement was in response to an earlier Trump interview, where the president blasted Sessions for recusing himself from the investigation into Russia's alleged meddling in the US election.
Sessions would not have his job if Trump wasn't confident of him, White House deputy press secretary Sarah Huckabee Sanders told reporters during an off-camera news briefing Thursday.
"As the president said yesterday, he was disappointed in Attorney General Sessions' decision to recuse himself. But clearly he has confidence in him or he would not be the attorney general," Sanders said.
When asked if he should resign, she replied: "I think you know this president well enough to know that if he wanted somebody to take an action, he would make that clear."
Sanders also said Trump had not spoken with Sessions since the interview he gave to the New York Times Wednesday.
In the interview, Trump expressed anger at Sessions for his decision to recuse himself from the Justice Department's investigation into Russia's alleged meddling in the US election. Trump said that had he known Sessions would do so, he wouldn't have appointed him.
"Sessions should have never recused himself, and if he was going to recuse himself, he should have told me before he took the job and I would have picked somebody else," Trump said. "It's extremely unfair – and that's a mild word – to the president."
Trump also criticized the testimony Sessions provided during his Senate confirmation hearings in which he said he never met with any Russians during the campaign.
Sessions later amended his testimony after it was revealed that he met with Russian Ambassador to the US Sergey Kislyak.
"Jeff Sessions gave some bad answers," the president said. "He gave some answers that were simple questions and should have been simple answers, but they weren't."
Since the interview, speculation have swirled in the media about whether Sessions would resign.
On Thursday morning, the Department of Justice held a news conference to announce the shutdown of the largest online black market website, AlphaBay.
During his statement on the AlphaBet case, Sessions said: "We love this job and this department and I plan to continue to do so as long as that is appropriate."
However, and perhaps pointedly, Sessions and other DOJ officials at the news conference refused to take questions unrelated to the AlphaBay case.
The attorney general walked out of the room with the shout of "Do you plan to resign, sir?" ringing in his ears.
In May, Trump fired FBI Director James Comey, citing various reasons including his handling of the probe into Hillary Clinton's private email server, as well as the Russia-related investigation.
At the time of Comey's firing, the FBI was looking into possible ties between the Russian government and members of the Trump campaign. Even though Sessions had already recused himself from Russia-related matters, he advised the president on Comey's firing.
In June, Comey testified in Congress on the conversations he had with the president, which he said led him to believe that Trump asked him to stop looking into his former national security adviser Michael Flynn. However, when asked if Trump "at any time" asked him "to stop the FBI investigation into Russian involvement in the 2016 US elections," Comey replied: "Not to my understanding, no."