Virginia man gets inflated 137yr sentence for stealing tires & rims
Published time: 20 Jul, 2017 01:19
Edited time: 20 Jul, 2017 08:05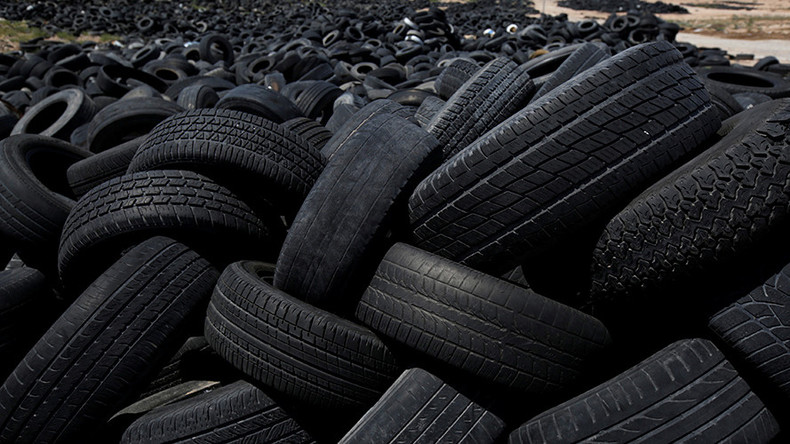 A jury has sentenced a man who stole tires and rims over a long period of time to 132 years in prison, with an additional 63 months in jail. The man is also facing similar charges in neighboring counties.
Jason Brooks, 38, was found guilty of six counts of grand larceny, six counts of larceny with intent to sell, three counts of destruction of property, and three counts of tampering with an automobile, according to a news release from the Office of the Loudoun County Commonwealth's Attorney.
In 2016, car owners across Loudoun County in Virginia reported their tires stolen. The vehicles, which had often been parked in their driveway overnight, were found sitting on cinder blocks the next morning. In several cases, police noticed blue fibers attached to the blocks, which appeared to be from moving blankets.
A press release from the Loudoun County Sheriff's Office in 2016 said there had been 11 reports of stolen tires and rims in the county through May. In each case, all four tires had been stolen, mostly from SUVs, pickup trucks and minivans that had customized rims and oversized tires.
The police added that the tires were typically stolen between midnight and 4:00am and that the suspect drove an SUV.
A break in the case occurred when police stopped Brooks in New Jersey and found several cinder blocks wrapped in a blue moving blanket in the back of his white Ford Explorer. They also found a floor jack and various tools for removing lug nuts.
The Loudoun County Sheriff's Office obtained a search warrant for Brooks' storage unit and apartment, where they found bags of lug nuts lug nut keys and business cards that read "Jay's Deals on Wheels." They also found personal items belonging to the victims.
In November, a press release from the Loudoun County Sheriff's Office said that Brooks had been arrested and was being detained at the Loudoun County Adult Detention Center without bond.
During a three-day trial, the jury saw footage from a neighbor's security camera that showed the tire thief driving a white Ford Explorer. Assistant Commonwealth's Attorney Eric Pohlner, who prosecuted the case on behalf of the Commonwealth of Virginia, asked the jury to hand down a sentence that would make it clear to Brooks that "Jay's Deals on Wheels is hereby shutdown."
The jury came back with a verdict that sentenced Brooks to 132 years in prison, 63 months in jail, and ordered him to pay $6,000 in fines.
Brooks has been scheduled to return to court for a final sentence hearing on October 18.
The Office of the Loudoun County Commonwealth's Attorney said that Brooks had two previous felony convictions for possession of a firearm by a convicted felon, assault, and unlawful imprisonment. They also said that he is facing charges on "identical offenses" in New Jersey, Fairfax County and Prince William County.